Homers boost Harrell, Astros past White Sox
Homers boost Harrell, Astros past White Sox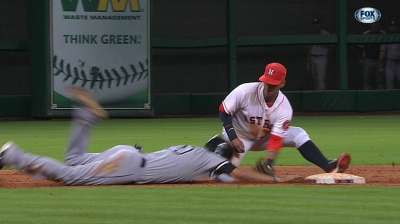 HOUSTON -- One day after practically failing to hit the ball out of the infield, the White Sox and Astros treated fans and a FOX viewing audience to a power surge.
But the deciding play never left the infield, as Houston used a rare game-ending pickoff on Chicago pinch-runner Jordan Danks in the ninth inning to down the White Sox, 4-3, Saturday night in Minute Maid Park.
"That was another way I've never seen a game end," said Astros starter Lucas Harrell, who worked 6 2/3 innings to earn the win. "It was different. It was baseball."
The teams combined for three solo home runs and four more extra-base hits, but defense carried the day for Houston, especially in the final sequence.
Shortstop Ronny Cedeno saw Danks extending his lead at second, so, independent of the Astros coaches, he called the pickoff and closer Jose Veras fired a sharp throw to end a tense final frame and secure his 13th save.
"It was pretty much just Ronny Cedeno just being a baseball player and Jose Veras reading the daylight," said Astros manager Bo Porter. "You practice plays like that in Spring Training. Lo and behold, you get this deep into the season and it ends up being a very big play in a win."
The play wasn't without controversy, as Danks argued vehemently while the Astros celebrated in the outfield grass behind him.
"I thought I got in there," Danks said. "I knew it was close. I told [the umpire], 'I'm not saying it wasn't close, but I didn't think it was close enough to end the game that way.' But what are you going to do about it?"
Mired in an extended power-hitting slump, the Astros broke out of it with a mammoth fourth inning, as Jason Castro and Chris Carter each blasted solo homers to stake Houston to a lead it held on to down the stretch.
Castro's shot to the right-center-field bullpen off White Sox starter John Danks was the first home run of his career against a lefty. He has 16 against right-handers, including eight this season while emerging as a formidable slugger in the Astros lineup.
"He's having an All-Star-like year," Porter said. "Him being an all-around great everyday catcher is the most important thing, and providing that power is just an added boost. He's emerged as that caliber of player."
Two batters later, Carter swung at the first pitch he saw, sending a towering shot that initially appeared foul but clipped the foul pole for his first home run at Minute Maid since May 12.
"I got a cutter in from [Danks], and I saw that same thing my first at-bat, so I was waiting on it," Carter said. "I wasn't sure whether it would stay in. I don't think anyone was."
Houston had hit only one home run in its previous eight games.
Harrell sandwiched five dominant innings between a pair of sloppy frames, allowing three runs but striking out a season-high seven batters. According to Harrell, he couldn't have picked a better foe to do it against than his former team, for which he played from 2010-11 after spending seven years in the White Sox system.
"It's always nice to beat them," he said. "When someone tells you you're not good enough, that you can't play for them, you always have a little chip on your shoulder."
At one point, Harrell retired 11 straight and faced the minimum between the second and sixth innings.
Chicago jumped on the board immediately, using two hits and a walk to plate Alexei Ramirez in the first inning. Houston responded with a two-out rally in the second, as Carlos Pena was hit by a pitch and Cedeno drove him in with a double to knot the score.
Center fielder Brandon Barnes secured what was ultimately the winning run in the fifth, doubling home Matt Dominguez from first on a hit-and-run to put the Astros up 4-1.
"I thought that sequence was the biggest offensive play of the game," Porter emphasized. "It gave us the extra cushion we needed. Matt was in motion, picking up the third-base coach and attacking the bag all the way around and was able to score. That's the attention to detail that helps you win these one-run games."
The White Sox chased Harrell with a homer and three more hits for two runs in the seventh, but the Houston defense came through. Second basemen Jose Altuve kept Harrell's last hit allowed from going into center field and prevented the tying run from scoring.
Reliever Paul Clemens followed by fanning Alejandro De Aza to strand two baserunners and hold the 4-3 lead. Ramirez led off the eighth with a double, but three Astros reliever recorded an out each to stunt the threat.
Then, it was Veras' time, albeit in an unconventional way. He walked the leadoff batter, but got the next two hitters on swinging strikeouts as Danks moved to second on a stolen base to set up the unique final out. Veras hasn't allowed a run in his last seven outings, totaling seven innings of work.
"I'm completely confident in Jose Veras," Porter said. "We give the ball to Jose, and I feel pretty comfortable the game's in the win column."
The Astros have put three in a row in the win column, continuing their streaky ways. Houston won seven of eight starting on Memorial Day and then lost seven of the next eight games before pulling off the current trifecta.
"We keep turning that corner a little more this year, except it's a lot earlier," Harrell said. "We're in or close in almost every game, showing we're a good club and the tight wins like we've had now the past couple nights show that."
Chris Abshire is an associate reporter for MLB.com. This story was not subject to the approval of Major League Baseball or its clubs.