DeJesus' injury leaves Cubs with a big void to fill
DeJesus' injury leaves Cubs with a big void to fill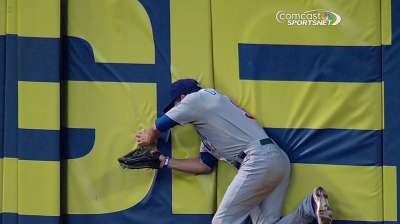 NEW YORK -- Chicago lost one of its most important players on Friday, and now has to figure out how to replace him in the lineup and on the field. That's not going to be easy, considering David DeJesus was a reliable all-around player for the Cubs.
"It's a guy that has one of the better OPS's [for] a leadoff hitter in the game," Cubs manager Dale Sveum said. "When you lose that, you're obviously losing a mainstay in your lineup."
Chicago placed DeJesus on the 15-day disabled list on Saturday, after he crashed into the wall trying to make a catch in the Cubs' 6-3 win over the Mets on Friday at Citi Field. DeJesus will fly home to Chicago on Sunday and will undergo an MRI on his sprained right shoulder on Monday.
At that point, the Cubs will have a better understanding of how much time DeJesus will need to miss. Sveum said the length of time he'll miss will likely be long enough that DeJesus will need to make a rehab appearance so he can get back to "game speed."
Sveum said Ryan Sweeney is likely to see most of the playing time in center field while DeJesus is out.
But it especially isn't easy to replace DeJesus at the top of the lineup. He was hitting .260 with six home runs and 21 RBIs at the time he was injured. Sveum said Sweeney or Luis Valbuena will likely replace DeJesus in the leadoff spot most of the time.
Sveum also said it will depend on who he wants hitting behind first baseman Anthony Rizzo in the fifth spot in the order.
What Sveum knows for sure, though, is the Cubs suffered a tough loss when DeJesus crashed into the center-field wall.
"Plus the defense he brings, leadership," Sveum said. "He brings all kinds of factors to the table."
Chris Iseman is an associate reporter for MLB.com. This story was not subject to the approval of Major League Baseball or its clubs.