Rally in ninth snuffed out on baserunning gaffe
Rally in ninth snuffed out on baserunning gaffe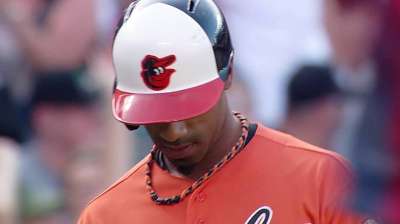 BALTIMORE -- The Orioles made a late push, but a ninth-inning rally fell short Saturday in a 5-4 loss to the Red Sox at Camden Yards.
Baltimore had won the first two contests of this four-game set, so the win gives Boston a chance to salvage the split Sunday and stave off the hard-charging Orioles. Baltimore had a chance to pull within a half-game of the American League East-leading Red Sox with a win, and nearly pulled it off with its ninth-inning rally that brought the tying run to the plate.
Matt Wieters hit a two-run homer with one out in the ninth off closer Andrew Bailey and then J.J. Hardy singled to put the tying run on first. The rally was snuffed out, however, when Ryan Flaherty flew out to right fielder Shane Victorino and pinch-runner Alexi Casilla was doubled off first.
Casilla had rounded second and was nearly at third and appeared surprised when he got to third and realized what had happened.
"Flaherty hit that ball pretty good," Casilla said. "That ball, he crushed it over my head. I kind of started running and peeked where Victorino was playing and said, 'No chance he's going to catch that ball.' And I just kept running. Bad read."
The comeback was not entirely in hand, but the play seemed to take the air out of Camden Yards, as the announced crowd of 42,422 was left likely wondering what could have been.
Before the stunted rally, the Orioles took exception to a few non-calls in the middle innings.
Starter Freddy Garcia, who gave up five earned runs over 5 1/3 frames and was tagged with the loss, thought he had struck out Dustin Pedroia to open the fourth inning. However, home-plate umpire Jeff Nelson ruled the ball was tipped foul. Pedroia then singled, Mike Carp homered and the Red Sox added a third run and never trailed again.
Boston hit at least five balls hard against Garcia in the inning, but he was visibly frustrated after the call and manager Buck Showalter went out to question the ruling.
Garcia then struck out David Ortiz, but Carp followed with the two-run homer and Jonny Gomes singled. After Jarrod Saltalamacchia flew out to deep center, Stephen Drew doubled to drive in Gomes and give the Red Sox the lead for good.
"That's a real tough call for an umpire because you can't see," Showalter said. "The game moves so fast. It's an educated guess, and [Garcia] made a pitch that he could hit for a base hit on the next one and some things after that. You don't dwell on that too much."
Garcia appeared angry as he yelled to Nelson and sounded like he was still upset about it after the game.
"I was feeling pretty good in the beginning of the game, and in the fourth inning, that was a really bad call and I lose a little of my concentration. It shouldn't happen," Garcia said. "I've been in it for so long. I don't think my emotions should take me out of the game, but it did for a little bit."
After the Red Sox had knocked Garcia around in the fourth, they played small ball at the top of the order in the fifth. Jacoby Ellsbury singled and stole second. Victorino bunted him to third and Pedroia drove him in with a groundout to shortstop, staking Boston to a 4-2 lead. Gomes tacked on the final run with a solo homer to chase Garcia from the game in the sixth.
T.J. McFarland replaced Garcia and pitched 3 2/3 scoreless innings of relief. His outing kept the Orioles in the game long enough so they were in position to strike back, but the rally fell short.
John Lackey pitched seven solid innings for the Red Sox, giving up seven hits and two earned runs.
Nate McLouth said the umpiring crew missed a second pivotal call, a balk in the fifth inning. McLouth had singled to put runners on first and third with no outs, but he was caught attempting to steal second. He said Lackey balked before he threw a pitch and the run should have scored.
"He has the ball in his hand when he's in the stretch position and he moved it probably four, five inches like he was going to bring it to his glove and stopped," McLouth said. "And then got the sign and then put it in his glove and they didn't see it."
The Orioles failed to come away with any runs when Manny Machado grounded out to Lackey and Nick Markakis flew out.
Showalter addressed the play unprovoked in his postgame news conference, but he quickly downplayed its significance.
"That was pretty blatant, but those things happen," Showalter said. "You've got to overcome them. We made some mistakes, too, today."
Machado's third-inning single stretched his streak of multihit games to four, but he was caught attempting to steal second. His hitting streak stands at 13 games.
On at least three plays, the Orioles ran into outs on the bases. However, Showalter said he'll take his chances with the aggressive baserunning and suggested it has helped Baltimore more than it has hurt it this season.
"That's just one of those things that's not brought up when they do it [successfully]," Showalter said. "I trust them. That's one of the reasons why we are where we are competitively, because of guys who have that mentality. I support it and I'm glad they're doing what they're doing. We're lucky to have some guys who have that mentality."
Derek Wetmore is an associate reporter for MLB.com. This story was not subject to the approval of Major League Baseball or its clubs.