Lackey bears down as Red Sox rally past Orioles
Lackey bears down as Red Sox rally past Orioles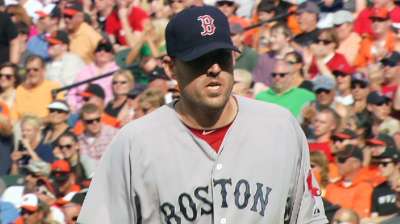 BALTIMORE -- By the time John Lackey recorded his first out Saturday, the veteran right-hander already found himself in big trouble. The first four Orioles batters got hits, which gave them two runs after just 12 pitches.
The Orioles also had two runners on and appeared about to break the game open quickly. However, Lackey avoided further damage by retiring the next three batters. He surrendered just three more hits in a solid seven-inning effort that gave Boston's offense time to rally for a 5-4 victory before 42,422 at Camden Yards.
This victory ended Boston's five-game losing streak in Baltimore. The Red Sox improved to 42-28 and now have a 2 1/2-game lead over the Orioles (39-30) in the American League East.
Lackey (4-5, 3.08 ERA) shut down the Orioles after that rocky first inning. He needed 24 pitches to labor through that frame but allowed no more runs and only three singles in his final six innings of work.
"It might've been the key to the game," manager John Farrell said. "We're sitting there with two runs in, first and second nobody out, and he just did an outstanding job of shutting them off at two runs."
Lackey said he and catcher Jarrod Saltalamacchia made a few adjustments, things like changing pitch sequences to try and throw off the hitters. The moves worked out well and kept the Red Sox in the game.
"Just kind of slowed it down, tried to make some pitches, minimize some damage and kind of got settled in a little bit," Lackey said. "[You] can't really do much about the first couple guys getting on once they're on, so you just try to minimize it the best you can."
The Boston offense was able to rebound from the early two-run deficit thanks to the power of Mike Carp and Jonny Gomes plus some other timely hitting. After going 18 1/3 innings without scoring a run dating back to Thursday's 5-4 loss in 13 innings, the Red Sox were due to bust out -- and they finally did.
Carp's two-run homer and Stephen Drew's RBI double gave the Red Sox three runs off Baltimore starter Freddy Garcia (3-4) in the fourth. Boston never trailed again.
One of the keys in that inning came when Dustin Pedroia swung at a 2-2 Garcia pitch and appeared to strike out. That would have been the second out, but home-plate umpire Jeff Nelson ruled it a foul tip, and Pedroia singled moments later and scored on Carp's game-tying homer.
Afterwards, Pedroia wasn't as sure about fouling the ball off.
"I thought I did hit it, and then I swung and felt something," Pedroia said. "I ... could of swore I fouled that ball off and then I didn't. But it was a break for us. I just said, 'I thought I fouled that.' [Nelson] said, 'Foul ball.' I thought I hit something. It was probably the ground. I don't know." Gomes singled after the homer and scored all the way from first on Drew's double to right. That gave the Red Sox the lead for good at 3-2.
"You just continue to pitch and try to make a good pitch," Garcia said about not getting the strikeout call. "When you face a lineup like that, one hit can change the game. It happened because I got a guy on base who should be out. There's nothing you can do about it."
Carp's been at first in much of this series due to the illness that's sidelined Mike Napoli (dizziness, grogginess). The homer was Carp's second of the series, and he said the Red Sox weren't worried about the long scoreless streak.
"We don't think about that," Carp said. "We feel like we're going to mash every day. It just takes one guy to get going. Fortunately, today it was me."
The Red Sox manufactured another run in the fifth when Jacoby Ellsbury singled to start the inning and then stole second. He moved to third on a Shane Victorino sacrifice bunt and scored on Pedroia's groundout to give Boston a 4-2 lead.
Lackey then escaped trouble again in the fifth. Taylor Teagarden singled and went to third when Pedroia committed his first error of the year when he booted a Nate McLouth grounder. Saltalamacchia then threw out McLouth trying to steal, and Lackey got the next two batters.
That looked even bigger in the following inning when Gomes crushed a 1-2 splitter from Garcia for a one-out solo homer and a 5-2 lead. The Orioles rallied against closer Andrew Bailey in the ninth when Matt Wieters hit a two-run homer, but Ryan Flaherty later lined into a game-ending double play to give Bailey his eighth save.
"Any win is good," Farrell said. "This is a very good team. They've somewhat carved out a characteristic over the last year-plus, two years of late-inning comebacks. We expect it again tomorrow."
Jeff Seidel is a contributor to MLB.com. This story was not subject to the approval of Major League Baseball or its clubs.