Given second chance, Rendon comes through for Nats
Given second chance, Rendon comes through for Nats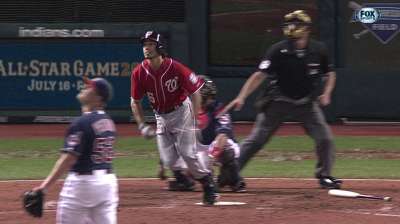 CLEVELAND -- An error by first baseman Nick Swisher and the first Major League home run by Anthony Rendon helped the Nationals edge the Indians, 7-6, at Progressive Field on Saturday night. The Nationals improved their record to 34-33.
With two outs in the ninth inning and the game tied at 6, Indians reliever Vinnie Pestano was able to get Rendon to pop up to Swisher at first base. It looked like Swisher had a bead on it but then, suddenly, he lost sight of the ball and it dropped in foul territory. Swisher was charged with an error on the play.
"I thought it was going to go fair. That's why I kept running," Rendon said. "I went, 'Phew, I will get another try.'"
Said Indians manager Terry Francona: "I think Swish thought he was under it and then realized too late that he wasn't. It ended up falling in no-man's land. You give teams extra opportunities. ... That's a heartbreaker, what happened after that. That can happen when you don't turn potential outs into outs."
In the Nationals' dugout, infielder Chad Tracy and catcher Jhonatan Solano predicted that Rendon would make the Indians pay for the mistake. They both said that Rendon would hit a home run.
"Everyone was saying this would be a great time for his first," Tracy said. "You can't give teams extra outs. They let a good hitter like Anthony get another strike, and he made them pay."
On the next pitch following the error, Rendon hit his first homer over the right-field wall. It was Rendon's third hit of the game. He is now hitting .333 for the season.
After the game, Rendon was at a loss for words.
"I don't even know how to explain it. It felt good, I guess." Rendon said. "I thought the ball was in play because I saw it drop. But I didn't know it went into the bullpen. I thought it was still on the field."
Rendon was hanging out with his brother, David, the previous night, and David predicted that Anthony would hit a home run Saturday night. The game-winning ball will now go to Anthony's mother, Bridget.
Rafael Soriano blanked the Indians in the ninth inning and picked up his 18th save of the season.
"Everybody feels good about themselves. I have confidence in this offense," manager Davey Johnson said.
The game got off to a great start for Washington. The team began Saturday hitting .209 with a .275 on-base percentage against left-handers. It didn't seem to be a problem against Indians starter Scott Kazmir, who allowed five runs in 2 2/3 innings.
The Nationals scored the first two runs in the first inning as Ryan Zimmerman and Jayson Werth hit consecutive home runs. The following inning, Washington made it 3-0 on a home run by Ian Desmond.
Kazmir found himself in trouble again in the third inning. The Nationals had the bases loaded with no outs, but Adam LaRoche hit into a double play, with Rendon scoring on the play. Zimmerman then scored on a wild pitch by Kazmir to make it a five-run Nationals lead.
Kazmir was taken out of the game in favor of right-hander Matt Albers, who was able to stop the bleeding.
However, Nationals right-hander Jordan Zimmermann couldn't take advantage of the 5-0 lead. He pitched five innings and allowed six runs on eight hits.
"I felt terrible all night. Everything I threw was up in the zone. I wasn't getting ahead of guys. I was 1-0, 2-0," Zimmermann said. "Obviously, I had to come with the fastball then. Even when I didn't come with the fastball, it was up in the zone. When those guys give me five runs, I've got to be able to lock it down and get us the win."
The Indians started chipping away at Washington's lead starting in the third, when Mike Aviles scored on a single by Jason Kipnis.
An inning later, Carlos Santana and Mark Reynolds hit back-to-back home runs to make it a 5-3 game.
In the fifth inning, the Indians scored three more runs to take a one-run lead against Zimmermann. Aviles scored on a single by Swisher, while Michael Brantley gave Cleveland the lead with a two-run double.
"We could have easily put our heads down and folded up," Tracy said. "But that's the makeup of this team. We made not have showed it a lot so far. The season is still young and we are a very confident bunch. We believe in the goal that we are after, and that's what we are going to do."
Indians relievers were able to blank the Nationals until the eighth inning, when right-hander Joe Smith allowed a pinch-hit home run to Tracy to tie the game at 6. It was Tracy's second pinch-hit home run of the season.
"It's great to have the comeback win, especially when we had a pretty good lead at the beginning of the game," Rendon said. "They fought their tails off to come back. We never gave up though, we kept going out there and kept grinding."
Bill Ladson is a reporter for MLB.com and writes an MLBlog, All Nats All the time. He also could be found on Twitter @WashinNats. This story was not subject to the approval of Major League Baseball or its clubs.