Tribe rallies from five down, but falls to Nats
Tribe rallies from five down, but falls to Nats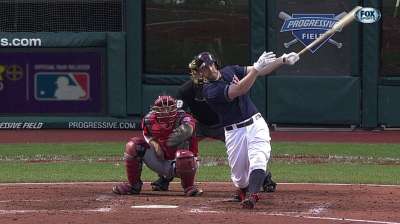 CLEVELAND -- The Indians learned a tough lesson in communication during Saturday night's game against Washington.
With the score tied and two outs in the top of the ninth, Nationals rookie Anthony Rendon lifted a high popup into foul territory behind first base. Second baseman Jason Kipnis and first baseman Nick Swisher both closed on the ball, but neither made a play on it, giving Rendon another chance to put something together against Tribe reliever Vinnie Pestano.
Moments later, Rendon shipped a Pestano fastball soaring high above the fielders who let him continue hitting. The ball sailed over the right-field fence and effectively sent the Indians home with a 7-6 loss.
"I think Swish thought he was under it and then realized too late that he wasn't," manager Terry Francona said, as Swisher was charged with an error on the play. "It ended up falling in no-man's land.
"That's a heartbreaker, what happened after that. That can happen when you don't turn potential outs into outs."
After the game, Kipnis, Swisher and Pestano all seemed to want to shoulder the blame for play.
"I was coming over to it," Kipnis said. "It looked like he might have had it, so I was going to give him the benefit of the doubt. I said, 'Take it. Take it.' From his point of view, he probably thought I was going to have it.
"It was just nothing more than a miscommunication. I thought he was going to take it. He thought I was going to take it. In the end, obviously, hindsight and all that stuff, it was unfortunate because Vinnie should have never had to throw another pitch."
Prior to the painful sequence of Swisher's error and Pestano's homer, the Indians clawed back from an early five-run deficit to grab a 6-5 lead in the fifth inning.
The rally began in the third, when Kipnis singled in Mike Aviles. It continued an inning later, as Carlos Santana and Mark Reynolds launched back-to-back home runs. Then, in the fifth, the comeback culminated with an RBI single by Swisher and a two-run double by Michael Brantley.
In all, Cleveland scored six runs off Nationals starter Jordan Zimmermann, who came into the start having given up more than two runs in a game just twice in 13 outings this season.
"We did a really good job of climbing back into that game," Francona said. "It got real exciting around the seventh inning. We just, we didn't finish it out. That's a tough guy to come back against. [We] did a really good job."
As for the Indians' starter, Scott Kazmir left the game after giving up five runs in just 2 2/3 innings. In his shortest outing of the season, he gave up three home runs, something he'd avoided doing since July 10, 2010, when he was with the Angels.
The outing was made all the more puzzling by how strong Kazmir said he felt on the mound.
"I mean, it's been rare where I felt this good and ended up getting a result like that," Kazmir said. "You kind of scratch your head, but they hit some pitches, that's for sure. It's just really frustrating."
Francona said poor fastball command played a role in doing Kazmir in.
"He either threw the ball off the plate or caught way too much of the plate," the skipper said. "He had real good velocity. He was real strong."
Ryan Zimmerman, Jayson Werth and Ian Desmond all homered off Kazmir. He was removed after unleashing a wild pitch that gave Washington its fifth run.
From there, it was bullpen time for Cleveland. Matt Albers and Bryan Shaw each threw 1 2/3 scoreless innings and Cody Allen tossed a scoreless seventh. But Joe Smith allowed a game-tying pinch-hit homer to Chad Tracy in the eighth and Pestano surrendered the go-ahead shot to Rendon in the ninth.
The crucial home run was the first of Rendon's career. In the Washington dugout, Tracy and Jhonatan Solano had an inkling that their rookie might make Cleveland regret that miscommunication in foul territory.
"Everyone was saying this would be a great time for his first.," Tracy said. "You can't give teams extra outs. They let a good hitter like Anthony get another strike, and he made them pay."
As Swisher watched Rendon's homer leave the yard, he said all he could think was, "Aw, [crap]." It ended up being that kind of night.
Mark Emery is an associate reporter for MLB.com. This story was not subject to the approval of Major League Baseball or its clubs.