Defense, offense struggle in Mets' loss to Cubs
Defense, offense struggle in Mets' loss to Cubs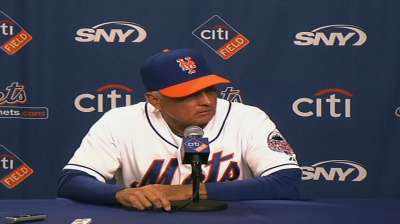 NEW YORK -- As currently constituted, the Mets are proceeding on a daily basis with multiple players out of position. Lucas Duda, a natural first baseman, has found a home in left field. Daniel Murphy, a former third baseman who has since converted to second, is playing first. Even Jordany Valdespin, who is manning his natural position of second base, has spent the past year and a half almost exclusively in the outfield.
It has made for some interesting alignments and situations for the Mets, who struggled with the game's fundamentals throughout Saturday's 5-2 loss to the Cubs at Citi Field.
In captain David Wright's words, a team that cannot afford to make mental mistakes spent most of Saturday paying precious little attention to detail.
"To play as poorly as we have, it's not fun," Wright said. "Nobody in here is having fun."
Still, despite starting pitcher Jon Niese's struggles, two missed double plays, a botched triple play, an oddly-timed bunt attempt and multiple other defensive lapses, the Mets found themselves facing only a one-run deficit in the eighth. While trying to squelch the fire that Scott Rice created, Brandon Lyon walked in a run before serving up Starlin Castro's sharp line drive to the warning track in left.
Hesitating in his approach to the ball, Duda watched it shoot over his head for a two-run, ground-rule double.
"We've been down this path before, where we've got to play perfect baseball," manager Terry Collins noted, before launching into a laundry list of his team's imperfections.
There were the missed double plays in the second and seventh innings, both of which resulted in Valdespin landing on the infield dirt. There was Valdespin's routine throw back to Niese, which sailed wide of the mound for an error. There was Duda's unsuccessful bunt attempt against a defensive shift in the seventh inning, with one out and his team trailing by a run.
Then, there was a bizarre play in the ninth, in which the Mets were unable to convert what could have been an easy triple play.
With the bases loaded, Darwin Barney lifted a low line drive to center field, where Juan Lagares appeared to catch it -- replays corroborated that much -- but first-base umpire Lance Barrett ruled it a trap. Lagares fired to shortstop Justin Turner -- another defender playing away from his natural position -- who stepped on second base for a force out, negating additional forces around the diamond. Had Turner instead fired home, the Mets could have thrown the ball around the horn for an easy triple play. Instead, they settled for a single out.
"I don't think anybody on the field knew that [Barrett] called it no catch," Turner said. "That was one of the weirdest plays I've been a part of."
Chicago's early runs were more attributable to Niese than anyone, considering the left-hander walked three men in the fourth and allowed a two-run single to opposing pitcher Scott Feldman. But Niese might have escaped that jam had Murphy been able to tag out Anthony Rizzo at first base, in yet another defensive lapse.
Though catcher Anthony Recker caught Rizzo well off base on a pickoff throw down the line, Murphy was far away from the bag, as well. He unsuccessfully tried to scramble back and sweep his glove down on Rizzo, moments before Feldman's hit put Niese in line for the loss.
"Those are the little things that you would like to go your way," Niese said. "But, obviously, not all those things are going to go your way every time. You've just got to find a way to battle and pick up your teammates when stuff like that goes bad."
Niese did manage to gut through 5 2/3 innings without an effective curveball, keeping the Mets in the game and pleading with Collins to stick around even longer -- one of the few positive signs the manager saw on this day. But as has become their custom, the Mets could not capitalize. Despite Wright's best efforts -- he doubled home a run in the fourth inning, reaching base safely for a career-best-tying ninth consecutive plate appearance -- his teammates fell utterly silent against Feldman. Rallies in the eighth and ninth also came up short, ensuring that the Mets would not recover from their defensive mistakes.
"I think I was just mixing it up well," Feldman said.
What it meant was another day of anguish for the Mets, who are in no condition to recover from such a lengthy string of mistakes. In dissecting those shortcomings, Wright even began looking forward to 2014, talking about how a strong second half might propel the Mets to brighter days.
In the meantime, exactly 100 games remain in 2013. And, as Wright said, "it's never too late to start playing good baseball."
Anthony DiComo is a reporter for MLB.com. Follow him on Twitter @AnthonyDicomo. This story was not subject to the approval of Major League Baseball or its clubs.