Butler moving up Royals' all-time RBIs list
Butler moving up Royals' all-time RBIs list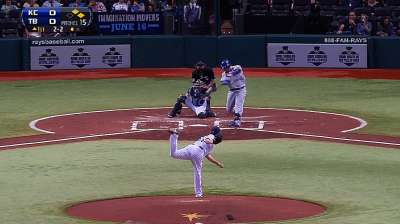 ST. PETERSBURG -- Billy Butler's three RBIs in the Royals' 7-2 victory over Tampa Bay on Friday night vaulted him past Carlos Beltran on the team's all-time ledger.
Butler now stands eighth on the franchise list with 517 RBIs, one more than Beltran had in his time with Kansas City.
"It's pretty good company," Butler said. "Beltran's a great player. Obviously, he's still doing it today. I remember watching him play in a Royals uniform; he did a lot of great things, a lot of big hits. It's good to be mentioned with him."
Beltran is now driving in runs for the Cardinals as their right fielder.
"It's two completely different type of players," Butler said. "But obviously, he's one of the better players in the game and has been for a long time. It's tough to even compare us, because he plays outfield and I'm a DH. It's great to be mentioned with him. Obviously, I think he's a way better player, all around."
At the top of the Royals' RBI list, of course, is current hitting coach George Brett with 1,596.
Dick Kaegel is a reporter for MLB.com. This story was not subject to the approval of Major League Baseball or its clubs.