Offense held in check by Padres' Stults
Offense held in check by Padres' Stults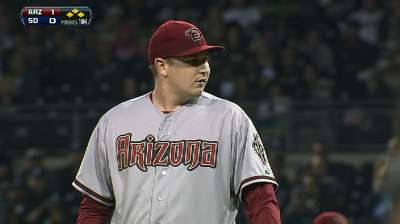 SAN DIEGO -- It didn't take long for the D-backs to get their first hit on Friday -- Gerardo Parra started the game with a double to left field. The wait came for their next hit.
Twenty-eight at-bats later, Willie Bloomquist singled with one out in the ninth inning to give the D-backs their second and final hit of the game.
"When you get two hits you're probably not going to win," said interim manager Alan Trammell.
Trammell was correct. Left-hander Eric Stults threw the Padres' first complete game of the season, stifling the D-backs on offense as they were defeated by the Padres, 2-1, at Petco Park on Friday in front of 23,364 fans.
Stults kept the D-backs hitters off-balance with his mixture of off-speed pitches. The D-backs struggled to make solid contact with him all game, as they grounded out to Stults six times, and those six assists tied a Padres record for most assists in a game by a pitcher.
"He uses the hitters energy against them," Trammell said. "He's not a hard thrower. That's what they do. They get guys to get off-balanced thinking that they're going to sneak a fastball."
The Padres (33-34) are in fourth place in the National League West but now are just four games behind the first-place D-backs (37-30).
Trammell was acting as manager while Kirk Gibson served a one-game suspension for his role in Tuesday's altercation with the Dodgers, and Trammell joked that he didn't get to do much. But it was true.
The D-backs got on the scoreboard first and led for most of the game. Parra's leadoff double turned into a run after a long sacrifice fly from Cody Ross, but the D-backs couldn't string together much else.
For a while that lone run seemed like it may be enough for D-backs starter Trevor Cahill. He worked through the Padres lineup with relative ease through the first five innings, scattering three hits while generating a lot of swings and misses with good command of his curveball and sinker.
"There was tremendous movement on both sides of the plate," Padres manager Bud Black said. "We were swinging and missing and not making great contact. He had everything going early on, but we were fortunate to get him in the sixth."
Cahill started the sixth inning with a walk Alexi Amarista, hit the next batter, Chase Headley, after he had two strikes, and Carlos Quentin reached on an infield single to load the bases. But Cahill almost pitched his way out of it, striking out the next two hitters. That ran his total up to 10 strikeouts on the night, matching a career high (June 26, 2010, vs. the Pirates).
Cahill had two strikes on Logan Forsythe before he singled to center field to drive in the Padres' two runs and give them a lead they would not relinquish.
It spoiled a sharp outing for Cahill (3-8), who allowed the two runs on five hits in 5 2/3 innings.
"Got ahead and tried to make too good of a pitch, tried to make it too nasty and it hit him in the foot," Cahill said about the at-bat to Headley. "I did the best I could to get out of it, and made a bad pitch [to Forsythe], left one up.
"Just one pitch away, I guess. It definitely hurts."
"You can't fault anybody for one inning or a few hitters," Trammell said. "Again, it goes back to the offense. You score one run you're usually not going to win."
Especially because two runs seemed more than enough for Stults (6-5), who continued his recent impressive stretch at home. In his last four home starts dating back to May 7, Stults is 3-0 with a 1.15 ERA.
Parra agreed that Stults got better as he settled into the game on Friday. In his first at-bat, Parra was able to take advantage of a fastball that Stults left over the middle of the plate. But in Parra's final at-bat to lead off the ninth, he struck out on an off-speed pitch.
"Nasty, he throws good pitches and has good location," Parra said. "We swung at a couple bad pitches."
Jamal Collier is an associate reporter for MLB.com. This story was not subject to the approval of Major League Baseball or its clubs.