Phillies overcome five-run deficit to top Rockies
Phillies overcome five-run deficit to top Rockies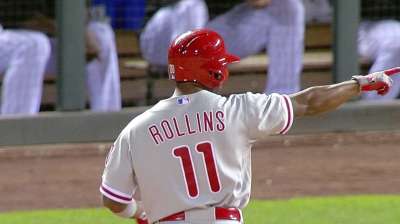 DENVER -- With the season more than a third of the way over and his team hovering at a distant third place in the National League East, Phillies manager Charlie Manuel called an impromptu meeting with his position players during Friday's pregame bating practice. He talked baserunning and approach of the plate, but also about what the team needed to do to turn around a season filled with frustration.
It may have taken several innings for Manuel's message to sink in, but the Phillies crawled back from a five-run deficit entering the top of the sixth for an 8-7 win over the Rockies at Coors Field on Friday night. Philadelphia has won back-to-back games after a five-game losing streak.
"I felt we had a good talk," Manuel said. "Our guys, they were definitely listening. I felt good about it, it wasn't something that I even planned on doing, anything like that."
The Phillies rallied for six runs in the sixth and seventh, taking advantage of a fading Juan Nicasio and a shaky Rockies bullpen. At the heart of the comeback was Freddy Galvis, who slid over from second base to shortstop in place of the injured Jimmy Rollins. Galvis hit his first two-run triple of the game in the sixth to make it 7-4. Humberto Quintero's RBI groundout scored the Rockies' fifth run, then Delmon Young hit a pinch-hit single to chase Nicasio.
"He's been dominant at times early and run into some trouble around the sixth inning," Rockies manager Walt Weiss said of Nicasio, who hasn't pitched in the seventh inning all year. "It's tough to say exactly why. His focus is good. It's just been somewhat of a trend for Juan this year."
Galvis tripled again in the seventh, this time sending a ball down the first-base line and into the right-field corner to tie the game at 7. Rollins then stepped to the plate as a pinch-hitter with a 10-game hitting streak against Colorado. The shortstop lifted a single off Rockies reliever Wilton Lopez over the reach of any infielder to hand the Phillies an 8-7 lead, their first of the night.
"You're supposed to take chances when you're losing," Mauel said of his decision to use Rollins.
John Mayberry kept the seventh alive by drawing an eight-pitch walk, setting up Galvis and Rollins to be the heroes.
It took such an offensive onslaught to make up for Kendrick's roughest outing of the year. He surrendered a season-high seven earned runs in a season-low 4 1/3 innings, not striking out a batter.
From there, six Phillies relievers combined to hold the Rockies scoreless over the final 4 2/3 innings, as right-hander Michael Stutes earned the win and Jonathan Papelbon the save, his 13th of the season.
"It wasn't my night," Kendrick said. "The offense picked me up and the bullpen pitched well, too. I was just up tonight, up in the zone, really up all night. I couldn't make a pitch. But the offense picked me up, picked us up, the bullpen pitched well, and it was a nice win."
Down three entering the fourth, Kevin Frandsen -- playing second with Rollins out of the starting lineup -- hit a one-out single. Mayberry then pushed a double into deep right-center field to bring home Philadelphia's first run of the night. Frandsen barely escaped the tag of Rockies catcher Yorvit Torrealba as he slid home.
Quintero smoked a two-out RBI single into right to put the Phillies down 3-2. But Colorado's offense, even in their first game without star shortstop Troy Tulowitki, out 4-6 weeks with a broken rib, wasn't done against Kendrick.
Kendrick's night began to fall apart in the fourth when Tyler Colvin hit an infield single down the first-base line. A Torrealba double plated Colvin, and Josh Rutledge kept the Rockies' offense rolling by blasting a 1-1 cutter into the home bullpen, increasing Colorado's lead to four.
In a clubhouse with no shortage of young players, some just called up from Triple-A, Manuel felt like this was the type of victory that instilled crucial confidence in them.
"I remember when I first came to the big leagues and I wanted to win, but I also wanted to stay in the Major Leagues, I wanted to do something to stay in the big leagues," Manuel said. "You battle to stay on the team more than you really think about the winning part of baseball.
"But when you got the confidence, that's when you kind of gel in and become part of the team. That's what we need I think."
Ian McCue is an associate reporter for MLB.com. This story was not subject to the approval of Major League Baseball or its clubs.