Bumgarner tosses gem against Braves
Bumgarner tosses gem against Braves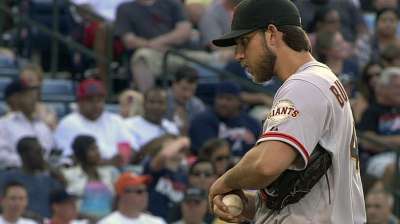 ATLANTA -- The perception that Madison Bumgarner someday will throw a no-hitter continued to grow Friday night. And we all know that perception often becomes reality.
Bumgarner approached history again, holding the Atlanta Braves hitless for five innings before finishing with a two-hitter over seven innings as the Giants prevailed, 6-0.
For the 10th time in his career, Bumgarner pitched at least seven innings and yielded three or fewer hits. Working a little longer and surrendering a little less to the opposition hardly seems far-fetched for the 23-year-old.
On this 85-degree evening, the Giants made the plays that serve as the tell-tale signs of an impending no-hitter. Shortstop Brandon Crawford ended the third inning by throwing out opposing pitcher Kris Medlen on a grounder deep in the hole. First baseman Brandon Belt snared Justin Upton's liner to end the fourth inning -- a play that was simple yet well-conceived, due to defensive positioning.
"He certainly has the command and the stuff," Giants manager Bruce Bochy said, agreeing that Bumgarner possesses no-hit potential. "But it's so hard to do. You saw."
What witnesses saw was not an unraveling. Just circumstance. Bumgarner's lone walk, a free pass to B.J. Upton, ended his game-opening stretch of 14 consecutive batters retired. But he struck out Dan Uggla to take his no-hitter into the sixth.
That inning began with Chris Johnson's bloop to right-center field. Second baseman Tony Abreu, center fielder Gregor Blanco and right fielder Hunter Pence converged on the ball, which fell safely among them for a single.
"I think we should have dived for it, to tell you the truth," Blanco said. But he and Pence eased their pursuit simultaneously for good reason.
"It could have been worse. There could have been a collision," Blanco said.
Television cameras zoomed in on Bumgarner's face. He remained unfazed, striking out pinch-hitter Reed Johnson and coaxing Andrelton Simmons' inning-ending, double-play grounder. Freddie Freeman poked an outside pitch to left for an opposite-field single in an otherwise uneventful seventh inning.
"Sometimes you see disappointment there and they lose their focus," Bochy said, describing a common reaction among pitchers who lose a no-hitter. "But he got his concentration right back and made great pitches after that."
It took a lot to steal the spotlight from Georgia native Buster Posey, who collected a career-high three doubles while scoring twice and driving in a run, but Bumgarner, a North Carolina native who had 40 friends and family members in attendance, succeeded while muting the Braves for the second time this season.
Bumgarner struck out 11 Braves in seven innings in a 10-1 victory on May 11 at AT&T Park. This time, he essentially duplicated his dominance while striking out 10.
"I think I just caught them at a good time for me," said Bumgarner, who has recorded 11 career double-digit strikeout performances and three this season. "I felt good earlier in the year when I faced them. ... It's a little bit of luck and a little bit of catching them at the right time."
Whatever was the source of Bumgarner's effectiveness, Atlanta manager Fredi Gonzalez was impressed.
"He threw breaking pitches behind in the count, spotted his fastball and made some great pitches on two-strike situations to our hitters," Gonzalez said.
Bumgarner preferred to focus on the team's fortunes. Coupled with Thursday's 10-0 rout at Pittsburgh, San Francisco recorded back-to-back shutouts for the second time this season. Tim Lincecum and Barry Zito were the victors in successive blankings of San Diego on April 20-21. With a 4-3 record on this three-city jaunt, the Giants can seal a winning trip by capturing one of the final two games here.
"I think we have to start locking it in -- we're coming up on the second half here -- if we're going to make a playoff push," Bumgarner said. "Everybody knows that. It's time to turn it around."
Blanco galvanized the offense for the second night in a row, delivering his first career leadoff homer before singling home a second-inning run. This gave him back-to-back multiple-RBI games for the first time in his career. Then Posey took over, contributing his hits in the third, fifth and seventh innings as the Giants widened their lead.
Chris Haft is a reporter for MLB.com. This story was not subject to the approval of Major League Baseball or its clubs.