Adjusted lineup ineffective vs. Buehrle
Adjusted lineup ineffective vs. Buehrle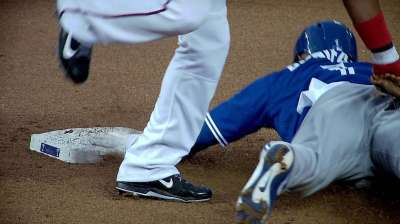 ARLINGTON -- The game ended with Lance Berkman hitting into a double play, fitting for a Texas lineup under-performing this month. The Rangers managed just five hits in an 8-0 loss to the Blue Jays at Rangers Ballpark on Friday night.
It was the fourth shutout of the Rangers' offense this season. The Rangers have now lost a season-high four straight games. They are 1-4 on an 11-game homestand and 3-8 in their stretch of 20 consecutive games.
The game lasted just two hours, eight minutes, making it the shortest game at Rangers Ballpark since May 23, 2011, against the White Sox. That was all because of Toronto starter Mark Buehrle, who quickly worked his way up and down the Rangers' lineup en route to a win. He allowed four hits in seven scoreless innings, striking out seven and walking one on 100 pitches.
"I looked at some of the pitches, and he was just slicing and dicing," Rangers manager Ron Washington said. "I don't know if that was one of his better games, but he was certainly good against us tonight."
Washington had made a few changes in the lineup to spark the offense, which proved to be ineffective. David Murphy, who was 6-for-46 in his last 12 games, received the night off, and Jurickson Profar led off with Elvis Andrus in the No. 2 spot.
The Rangers were 0-for-2 with runners in scoring position. Adrian Beltre reached second base with two on and no out in the second. But Soto flied out to right field, and Chris McGuiness grounded into a double play. The Rangers grounded into three double plays.
"I feel that we go out there and play with a lot of passion," said Geovany Soto, who started at catcher for A.J. Pierzynski. "Obviously we want to do great. We have the type of offensive team where we're actually playing out of character right now. That's the way it goes sometimes. Trust me, we're trying to go out there and get 10 runs. Right now things aren't working, but that's baseball. You got to keep grinding."
Andrus was ejected in the sixth inning arguing a strike three call by home plate umpire Eric Cooper. Before his ejection, he was 0-for-3 with two strikeouts. Profar shifted from second base to shortstop, and Leury Garcia entered in the seventh at second base.
The Rangers have been held scoreless for 16 consecutive innings in this series. They have gone 13 straight games with 10 or fewer hits, the longest single-season streak for the club since 1988.
"When you're going through spells that we're going through, you're talking about guys that are in the trenches, they get a little upset," Washington said. "If they didn't get upset, that'd mean they didn't care."
Justin Grimm saved the bullpen by pitching 7 2/3 innings, but he allowed another big inning during his start.
The Blue Jays got four runs off Grimm in the fourth, collecting consecutive hits to start the inning before Colby Rasmus belted a three-run home run.
"I was trying to be on that slider, so I was a little late on some of those heaters," Rasmus said of the home run, which came on an 0-2 count. "The first one I hit he got it in on me just enough, and then the second one I was able to get inside of a little more and get it out."
Grimm allowed another home run two batters later, this time to J.P. Arencibia on the first pitch in the at-bat. Grimm took the loss, allowing seven runs on 10 hits. He struck out four and walked two on 108 pitches.
"I know how to get those guys out, got away from it and it produced the big inning," Grimm said. "I got to learn a little damage control. It seems to be the difference in my last couple outings. It hasn't been terrible; it's just been one big inning that gets to me."
Grimm is now 0-2 with an 11.40 ERA in his last three starts this month after winning his final three starts in May. Rangers starters have gone 13 straight games without a win, the longest streak since May 1-16, 2003.
"When I give up a big inning like that, it's hard for these guys to stay in it," Grimm said. "I don't blame them; I blame myself."
Master Tesfatsionis an associate reporter for MLB.com. This story was not subject to the approval of Major League Baseball or its clubs.