Frandsen at second base, Galvis at shortstop
Frandsen at second base, Galvis at shortstop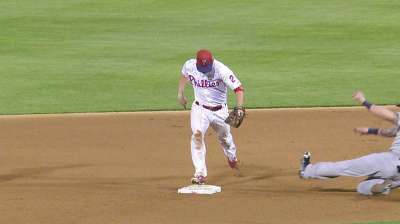 DENVER -- Kevin Frandsen got a rare start at second base for the Phillies in the series opener against the Rockies on Friday.
Frandsen, who has primarily served as a pinch-hitter and also filled in at first and third base, was back in the infield as Jimmy Rollins was out of Friday night's lineup with what Phillies manger Charlie Manuel called hip soreness. Freddy Galvis, the usual second baseman, slid over to shortsop in place of Rollins.
Rollins has also missed time this year with a sore right foot, but Manuel said he will likely return to the lineup Saturday against the Rockies. Rollins delivered a pinch-hit RBI single in the seventh inning on Friday to put the Phils ahead, 8-7.
Frandsen got the nod after grabbing two pinch-hits against the Twins. He is hitting .273 with two homers and eight RBIs in 37 games.
"Frandsen's been having some good at bats," Manuel said. " … We're definitely looking for somebody to help jump our offense, and Frandsen's had some good at-bats."
Ian McCue is an associate reporter for MLB.com. This story was not subject to the approval of Major League Baseball or its clubs.