Manuel, like Lee, wants Phillies to improve
Manuel, like Lee, wants Phillies to improve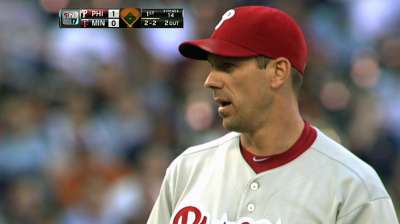 DENVER -- After hearing Cliff Lee's comments following a 3-2 win over the Twins on Thursday, Phillies manager Charlie Manuel could not help but share Lee's sentiment.
Lee, in the third year of a five-year, $120 million deal, did not hide the fact that he expected to play for a contender when he signed with Philadelphia after the 2010 season. "The past year and a half hasn't gone the way I would have anticipated," Lee said after the game. "It's why you play the games. You never know. I don't think anyone here is happy with the way we've played in that time frame. It's due to a lot of injuries. There are some good excuses, but they're still excuses. We're the Philadelphia Phillies. We should play better than we have."
The Phillies lost in the National League Division Series in Lee's first year, then failed to make the postseason after posting an 81-81 record last year. Currently sitting in third place in the National League East, 7 1/2 games behind the division-leading Braves, the Phillies have a steep hill to climb.
And Manuel suspects Lee was not alone in expecting more when they signed with Philadelphia.
"I think we had quite a few guys like that. We had [Roy Halladay], I think Cliff, I think [Jonathan] Papelbon. … Those guys, they signed here because they wanted to be here and thought it was a good place to come because we had a chance to win.
"I think when I hear Cliff talk about that he wants to play on a winner, nobody in baseball wants to win more than I do. For us to win, go where we want to go, I don't have to tell you, we got to get better. We got to improve, and how we do it is something else, but at the same time we got to play a lot better -- better baseball then we've been playing."
Thursday's win snapped the Phillies' five-game slide.
Ian McCue is an associate reporter for MLB.com. This story was not subject to the approval of Major League Baseball or its clubs.