Two Rangers show progress with injuries
Two Rangers show progress with injuries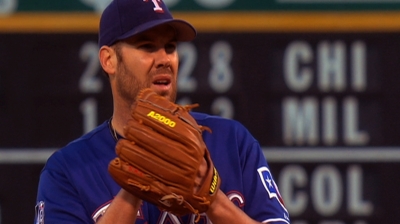 ARLINGTON -- Colby Lewis and Alexi Ogando have made progress with their injuries this week.
Lewis threw for the first time in 12 days during a side session Thursday. Lewis said he threw about 25 pitches with just his fastball and curveball. He thinks the triceps tendonitis is gone, and he will most likely throw a bullpen session Monday.
" I'll just try to flip all my pitches in there and just another process of building it up again," Lewis said.
Lewis had surgery July 27 to repair a torn flexor tendon in his right elbow last season. Lewis had two setbacks this season because of triceps tendonitis and muscle soreness behind his right elbow. Lewis received a platelet-rich plasma shot during his last setback two weeks ago.
"I took 12 days off with no throw, so I don't know if the shot was the key or not," Lewis said. "Those PRP shots are supposed to help inflammation, and it got rid of it."
Rangers general manager Jon Daniels said Ogando also received the PRP injections during his latest stint on the disabled list with right shoulder inflammation. Daniels said Ogando started feeling better right after he was placed on the disabled list, but he has been sore the last few days because of the injection.
"Hopefully it'll push him through it, so he can get over the hump," Daniels said.
Daniels said the team's plan was to bring Ogando back as a starter. If Ogando deals with the issue again, Daniels said the club would consider a role in the bullpen.
"He wants to start; he's pretty good at it, and we need someone to start," Daniels said. "That would be the logical thing to do. If he breaks down again, that's something we'd consider."
Master Tesfatsionis an associate reporter for MLB.com. This story was not subject to the approval of Major League Baseball or its clubs.