Washington pleased with Soria's bullpen
Washington pleased with Soria's bullpen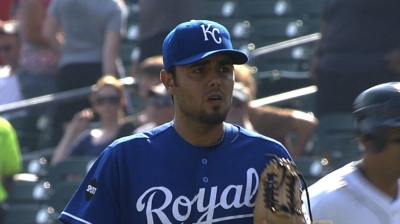 ARLINGTON -- Rangers manager Ron Washington said Joakim Soria's live bullpen session went well Friday.
Soria faced Mitch Moreland (who is on the 15-day disabled list with a strained right hamstring), Craig Gentry, Chris McGuiness and Leury Garcia. Soria threw about 30 pitches. Moreland hit a ground ball to second and a line drive through the left infield in his two at-bats.
"He looked great," Gentry said. "He threw his pitches for strikes and threw all of his pitches. He's been doing this for a long time, and he's a great pitcher. He looked great today, and I can't wait to get him back.
Soria will have another live bullpen session Monday. He had his second Tommy John surgery April 2, 2012, with the Royals and missed the entire regular season. He had a setback in April with a strained pectoral muscle on the right side of his chest.
"He's going to have to go through the process," Washington said. "It's not going to be a rushed job, so when we get him back up here we know what we got.
Master Tesfatsionis an associate reporter for MLB.com. This story was not subject to the approval of Major League Baseball or its clubs.