Yankees call up Bootcheck, Neal
Yankees call up Bootcheck, Neal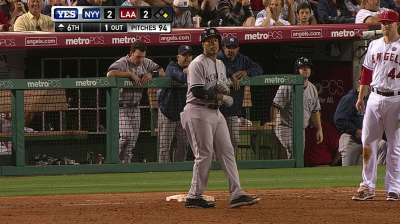 ANAHEIM -- In response to Thursday's 18-inning series finale in Oakland and Kevin Youkilis hitting the disabled list, the Yankees called up right-handed pitcher Chris Bootcheck and outfielder Thomas Neal and optioned Adam Warren to Triple-A Scranton/Wilkes-Barre.
Yankees manager Joe Girardi liked what he saw from Warren, but the right-hander wasn't going to be available for a few days after pitching six innings Thursday and the club needed to make sure it had enough arms to get through the three-game series against the Angels.
"It's really hard," Girardi said, "when a guy basically does his job and you have to send him down. It's difficult. It's tough, but he's pitched very well and we're really encouraged with what he's done."
Warren posted a 3.12 ERA in 32 2/3 innings.
Bootcheck, originally drafted by the Angels, has not pitched in the Major League since 2009. He has a 5-2 record with a 3.61 ERA in 11 starts and 62 1/3 innings with Scranton/Wilkes-Barre.
Neal gives Girardi options in the outfield.
"He gives us options against left handers," Girardi said. "He's here to help out."
With Angels left-hander C.J. Wilson getting the start on Friday, the 25-year-old from Southern California hit sixth and started in right field.
"It's pretty cool to get out here and get in there right away," Neal said. "Obviously we all want to go out there and be successful, but I don't want to go out there and put too much pressure on myself so I'm just going to stay focused mentally and whatever happens, happens."
William Boor is an associate reporter for MLB.com. This story was not subject to the approval of Major League Baseball or its clubs.