Fife's solid outing goes unrewarded in Pittsburgh
Fife's solid outing goes unrewarded in Pittsburgh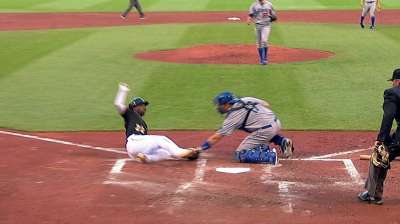 PITTSBURGH -- Dodgers manager Don Mattingly hoped the return of Yasiel Puig and Hanley Ramirez to the starting lineup would beef up his club's offense on Friday.
After all, the Dodgers' pitching hasn't been a problem this year. They just haven't been able to support it, and the lineup needed a shot in the arm.
But Jeff Locke spoiled Mattingly's hope, tossing seven shutout innings to help the Pirates down the Dodgers, 3-0, at a sold-out PNC Park. Locke received all the support he would need on Andrew McCutchen's two-run double in the third.
"Results are tough to focus on," first baseman Adrian Gonzalez said. "That's what gets people into slumps."
Stephen Fife battled through five innings and did enough to keep the Dodgers in the game. The right-hander allowed two runs on six hits, throwing 93 pitches. But he couldn't best Locke, who gave up just two hits and one walk while striking out five.
In the third, Pirates outfielder Alex Presley reached on a chopped single to second, then Russell Martin singled to left before McCutchen drilled a 1-1 fastball down the right-field line to score the pair.
"I thought [Fife] did a nice job. He put himself in a tough situation to a very good No. 3 hitter, and elevated a fastball," said Dodgers bench coach Trey Hillman, who managed the club Friday while Mattingly served his one-game suspension from Tuesday's scrum with Arizona. "I was really impressed he went back out in the fifth and gave us another inning, because his pitch total was kind of high. He got through some tough hitters."
Fife threw at least 20 pitches in each of the first three innings, but he settled down in the fourth and fifth, facing just six batters and allowing one hit.
"It's definitely not the goal to throw 20, 25 pitches every [inning]," Fife said. "Definitely not my best night. But I battled."
Locke threw just 75 pitches over seven, but Pirates manager Clint Hurdle gave the ball to Mark Melancon in the eighth. Hurdle said last week that he was no longer considering pitch counts when making decisions regarding his starting pitchers.
Melancon allowed a soft line-drive single to Andre Ethier before Jerry Hairston doubled to left. But Melancon struck out pinch-hitter Juan Uribe on a breaking ball in the dirt to end the inning and preserve the lead. Hillman originally had lefty Skip Schumaker on deck to pinch-hit, but opted to go with the righty Uribe instead.
Hillman said choosing Uribe took Melancon's cutter, one of his toughest pitches, out of play, because he doesn't throw it as much as he does against lefties.
"I felt like with what [Melancon] does to left-handed hitters, I was hoping [Uribe] didn't fish with that curveball in the dirt," Hillman said. "But, unfortunately, that's what ended up happening."
J.P. Howell pitched a perfect sixth and seventh for the Dodgers. The lefty was suspended two games for his role in Tuesday's melee, but he can still play while he appeals the ruling. Hitting coach Mark McGwire sat out the first of his two games, in addition to Mattingly. Reliever Ronald Belisario served his one game, as well.
The Pirates tacked on a run in the eighth with a Neil Walker sacrifice fly that Gonzalez caught in foul territory. Jason Grilli picked up his 24th save after allowing an infield single to Puig and a bunt single to Nick Punto. But he struck out Gonzalez and Mark Ellis with high fastballs on full counts, and got Ramirez to pop out in between to secure the win.
The Dodgers scored 15 runs in three games against the D-backs earlier this week, but they were shut down Friday and fell to 6-10 in June. The club ranks 13th in the National League in runs scored.
Locke said he was able to best their hitters when they tried to jump on his pitches early in at-bats.
"Just an aggressive team. They want to go up there and make something happen, and they hit a lot of balls right at people tonight," Locke said. "Fortunately, they wanted to swing early, and I was able to stay in the strike zone early in at-bats."
Steven Petrella is an associate reporter for MLB.com. This story was not subject to the approval of Major League Baseball or its clubs.