Rutledge more at ease in return to Rockies
Rutledge more at ease in return to Rockies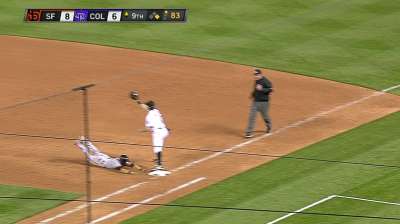 DENVER -- Infielder Josh Rutledge certainly hadn't caught fire when the Rockies sent him down to Triple-A Colorado Springs on May 22, but at .242 with five home runs, 13 RBIs and five stolen bases, he wasn't exactly cold.
However, the Rockies felt he needed to chill out a bit.
The Rockies originally called up Rutledge from Double-A Tulsa last year, and he performed well enough (.274, eight home runs, 37 RBIs in 73 games) at shortstop that he was penciled in as the starting second baseman this season. Despite the competitive numbers early this year, the Rockies saw a player who was pressing and at times struggling to learn a new position.
Rutledge, recalled Friday because of the rib injury to shortstop Troy Tulowitzki that will keep him down for 4-6 weeks, said he saw the Rockies' point. Rutledge hit .348 with two homers and 10 RBIs in 17 games while playing second and short at Colorado Springs, but more importantly, he caught his breath.
"That was the main thing, all the added pressure I was putting on myself was making it harder to perform," said Rutledge, who started at second and led off Friday night. He will be used at second and short in Tulowitzki's absence. "It's already hard enough without that being added. It makes it worse."
Interestingly, Rutledge went through the dreaded sophomore slump when he actually was a sophomore at the University of Alabama. He hit .369 as a freshman, dropped to .305 as a sophomore, then hit .360 as a junior before the Rockies selected him in the third round of the 2010 MLB First-Year Player Draft.
"I think it was the same way, you come off a good season, your expectations -- not necessarily yours but everyone else's -- they get to you if you let them," Rutledge said. "This year, I just put things in perspective and realized this is a game. You play hard, control what you can control. Another thing I did was just get away from the field and go fishing a few times."
At season's start, manager Walt Weiss wanted Rutledge to concentrate solely on his conversion to second, but that's not the case with Tulowitzki out of the lineup. Utility man Jonathan Herrera started at short Friday night. DJ LeMahieu, who began the season playing short at Colorado Springs but has played more second base in the Majors, and Rutledge all could see time there depending on matchups.
"The dynamics of our team have changed again, so you've got to look at your pieces a little bit differently," Weiss said.
Thomas Harding is a reporter for MLB.com. Read his blog, Hardball in the Rockies, and follow him on Twitter @harding_at_mlb. This story was not subject to the approval of Major League Baseball or its clubs.