Grilli digs deep to close Locke's gem vs. Dodgers
Grilli digs deep to close Locke's gem vs. Dodgers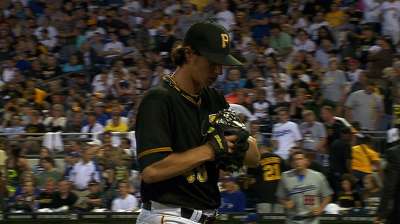 PITTSBURGH -- It's only June. But it is already real, the tension that grips PNC Park in the ninth inning of a tight game. The Pirates may still be playing only for respect. But if this keeps up, they will soon legitimately be playing for a lot more, and the fans sense that.
Thus, breaths and mates' hands were both held Friday night before Jason Grilli could close out another win and another shutout. The Bucs took another step up the National League Central food chain, but it definitely was not a step on Easy Street, regardless of the final 3-0 score over the Dodgers.
Grilli had entered in the ninth, separated only by Mark Melancon from Jeff Locke's seven two-hit innings, and got a rude welcome.
Yasiel Puig chopped a ball over third baseman Pedro Alvarez's head for a single. Nick Punto pushed a bunt that stopped literally on the third-base foul line for another single. Next, the heart of the Dodgers lineup, each beat of it representing the potential tying run.
"It's not always going to be smooth," Grilli said, "or free and easy. There'll be times when your back is against the wall, and you find out what kind of fight you have."
This was the time. With 36,878 on their feet and roaring, Grilli struck out Adrian Gonzalez, one of the Majors' top hitters with runners in scoring position. Hanley Ramirez hit a foul pop to catcher Russell Martin. Mark Ellis also struck out.
From the time the gauntlet got thrown down, Grilli did not let the Dodgers hit another ball into fair territory. He had his 24th straight save. The Pirates had their 40th win, and 11th shutout.
And The Locke Ness Monster had his sixth win, to go along with a 2.19 ERA. He has started five of those team shutouts.
"But this was probably his best performance," said manager Clint Hurdle.
It definitely was the most impressive, as Locke hardly broke a sweat five days after he had sweated through a seven-walk misadventure at Wrigley Field against the Cubs.
"He was on top of his game," Hurdle added. "First-pitch strikes, working ahead. ... He looked effortless. Just made pitches the entire seven innings. What he showed was the ability to make adjustments in four days, then take it into the game and compete. That's what made it most gratifying for all of us."
Locke considered the rebound simply a matter of working on some basics that had become neglected by a month-long smooth ride.
"I worked a little more on my direction in the bullpen this week -- get my delivery to where it takes my body toward the plate -- things I kinda got away from the last month or so, just because things were going all right," Locke said. "Had to go back to the drawing board."
"Locke was great tonight," Grilli said. "An unbelievable performance. Sweet."
To the Pirates, it was a delicacy like a frozen butterscotch-topped treat on a hot summer night. To Trey Hillman, the Dodgers' bench coach who managed the game as Don Mattingly served a one-game suspension, it was a bitter pill.
"He commanded three pitches pretty well," Hillman said. "I would say the thing that surprised me the most was his fastball command."
With the Pirates forcing Dodgers rookie right-hander Stephen Fife to make two pitches for every one of Locke's, the only disappointment for hometown fans was the Bucs' inability to open up a wider lead that would've enabled the lefty to comfortably pitch deeper.
Locke needed only 75 pitches for his seven innings, and he held the Dodgers hitless after Mark Ellis' single with one out in the second.
One had the sense that Locke may have been relieved when the long-anticipated run-in with Puig had the anticlimactic outcome of Puig drag-bunting the first pitch of the game.
Puig easily beat it out for a single, yet Locke may still have been thinking "Thank you" -- especially after Punto erased Puig on a double-play grounder.
The next time they met, Puig grounded out uneventfully to second, in the top of the third.
A few minutes after that, Locke had a lead: Alex Presley led off the bottom of the third with an infield hit off Fife's glove, Martin ripped a more legitimate single to left, and both scored as Andrew McCutchen punished a ball down the right-field line for a double.
McCutchen hit that ball so hard, it did not slice into foul territory, as most balls hit into that area by right-handed batters do. It stayed straight, landing about four feet fair.
"I was just ready to hit and drive something," McCutchen said of his second at-bat against Fife, who had struck him out in the first inning. "I put a good barrel on it, and hit it in the middle of the plate, I wasn't out front. So I was able to stay through and drive it."
Hurdle had announced a few days ago that he would no longer pay attention to pitch counts as a guide to making pitching decisions, but he still had to be impressed with the efficiency of Locke, who averaged fewer than 10 pitches through the first four innings.
In his previous start, that uncharacteristic seven-walk adventure at Wrigley, Locke needed 100 pitches to log 5 2/3 innings.
Tom Singer is a reporter for MLB.com and writes an MLBlog Change for a Nickel. He can also be found on Twitter @Tom_Singer. This story was not subject to the approval of Major League Baseball or its clubs.