Rizzo moves to fifth, Schierholtz to third in lineup
Rizzo moves to fifth, Schierholtz to third in lineup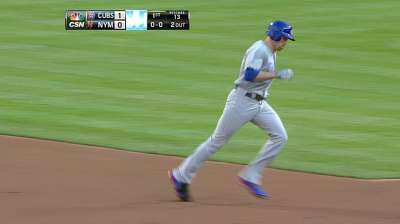 NEW YORK -- Cubs manager Dale Sveum acknowledged that it might only be two spots in the batting order, but he still hopes it might help Anthony Rizzo at the plate.
Sveum dropped Rizzo to fifth in Chicago's lineup against the Mets on Friday and put right fielder Nate Schierholtz in the third spot. By flipping Schierholtz and Rizzo in the lineup, Sveum has his hottest hitter higher in the order, while also taking some of the pressure off Rizzo, who's average stood at .243 entering Friday.
"I'm just kind of mixing it up. Right now, you could see, he's our best hitter, swinging the bat as good as anybody from the left side," Sveum said of Schierholtz, who belted a homer in his first at-bat Friday. "And just kind of put Rizzo down a little bit to let him kick back a little bit in a different spot and just see what happens."
Rizzo was hitless in his previous two games, and he went 2-for-23 during the Cubs' last homestand. He did have eight walks.
Schierholtz, though, went 6-for-16 (.375) with a home run, triple and four runs scored during the seven-game homestand.
While Rizzo has shown he can be a streaky hitter, Sveum said that's certainly not out of the ordinary for most players.
"You have certain guys -- most of those guys end up going to the Hall of Fame -- that are that guy pretty much their whole career," Sveum said. "The rest of us, or the rest of baseball, can be pretty streaky."
Chris Iseman is an associate reporter for MLB.com. This story was not subject to the approval of Major League Baseball or its clubs.