DeJesus crashes into fence, sprains right shoulder
DeJesus crashes into fence, sprains right shoulder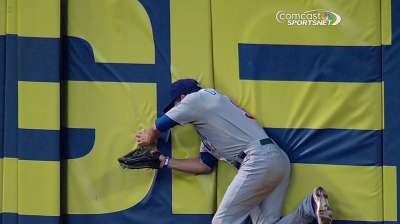 NEW YORK -- David DeJesus couldn't stop. As he neared the center-field wall trying to track down a fly ball off the bat of Juan Lagares in the third inning, the ball fell just past his outstretched glove. DeJesus' momentum carried him, forcing him to crash hard into the wall with his right shoulder.
"It felt like I ran into the wall and my shoulder went the other way," DeJesus said after the Cubs' 6-3 win over the Mets on Friday. "It was a tough one."
DeJesus received X-rays during the game, and doctors discovered he had a sprained right shoulder. It was still swollen after the game, but doctors will reexamine the shoulder once the swelling goes down.
DeJesus will also undergo an MRI. Once that happens, the team will have a better understanding of how long DeJesus will be out for.
For now, he will have to go on the disabled list.
"Hopefully, it's not that big of a deal right now," Cubs manager Dale Sveum said. "Just a couple weeks or something."
After crashing into the wall, DeJesus fell to the warning track writhing in pain. Sveum and the trainers immediately came out of the dugout, and then most of Chicago's players on the field followed them to the outfield to check on DeJesus.
"It was just like the pressure didn't want to stop," DeJesus said of the pain in his shoulder.
After a couple of minutes, DeJesus got up and walked off the field. Ryan Sweeney replaced him in center. Lagares ended up with a triple.
While DeJesus is out of the lineup, Sveum said Sweeney is likely to continue to get most of the playing time in center field.
Sveum also said that the Cubs are considering calling up a reliever when DeJesus goes on the DL since the bullpen's been worked so much in recent games. Chicago had a 14-inning, 6-5 win over the Reds on Thursday.
But the Cubs are losing a productive player at the top of their lineup. DeJesus hit a three-run triple in the second inning in Friday's win.
"It's a huge part of our lineup," Sveum said. "When he's going and getting on base, that's usually when we score."
DeJesus, who was born in Brooklyn and grew up in New Jersey, had both of his parents in attendance. This is the third time he's been injured at a New York stadium, with the previous two injuries coming against the Yankees.
Against the Mets on Friday, DeJesus said he just wanted to make the play for Cubs starter Edwin Jackson.
"That's the kind of player [he is]," Sveum said. "He plays hard every day. Unfortunately, that fence got the best of him today."
Chris Iseman is an associate reporter for MLB.com. This story was not subject to the approval of Major League Baseball or its clubs.