CarGo feeling better, in lineup against Phillies
CarGo feeling better, in lineup against Phillies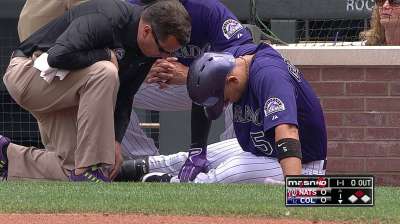 DENER -- After an unlucky bruise on a day full of pain and misfortune for the Rockies, things turned when left fielder Carlos Gonzalez woke up Friday morning.
Gonzalez, who suffered a bruised left foot when he was hit with a foul ball while in the on-deck circle during Thursday afternoon's 5-4 loss to the Nationals, woke up Friday morning feeling much better. Gonzalez was back in his usual No. 3 spot in the order for Friday night's game against the Phillies.
Last seen crumpled near the backstop before he finally limped down the dugout stairs on Thursday, Gonzalez was smiling and joking as he skipped through pregame stretching with his teammates Friday afternoon.
"I actually felt better waking up," Gonzalez said. "That's what I was hoping. Last night I was feeling a little pain in my leg so I iced a couple of times, so I actually was concerned about how I'd feel this morning. I feel fine. I'm actually better."
Gonzalez already has been playing through tendinitis in his left knee. So far he has been smart about it, slowing to a jog when it's unlikely he'll beat out a play at first base or reach a line drive. Some fans boo, but it is the clear strategy choice. With a .299 batting average and team-leading numbers for home runs (18) and RBIs (52), he and the Rockies will gladly endure ill-informed barbs from the stands.
"I just wanted to see that he could go out and play without hurting it any more," Rockies manager Walt Weiss said. "He's not going to be 100 percent tonight. But he said he was good enough to play. Putting his name in the lineup is huge for our club."
This is familiar territory. On Thursday, the Rockies lost shortstop Troy Tulowitzki, who was vying for the National League lead in hitting and having an NL Most Valuable Player Award-worthy season, for 4-6 weeks with a fractured rib on his right side. Last year, Tulowitzki injured his groin in late May and didn't return. The Rockies lost a club-record 98 games.
Gonzalez suffered without Tulowitzki in the lineup last year, hitting .261 with five home runs in 57 games after the All-Star break. But there were other circumstances. Michael Cuddyer twice went to the disabled list with rib injuries, and Todd Helton, still considered a big part of the lineup, struggled before undergoing right hip surgery in August.
At times Gonzalez became frustrated because pitchers refused to challenge him with fastballs. But with Cuddyer (.337, 10 homers, 37 RBIs) in the cleanup spot behind Gonzalez, Weiss is convinced that opponents' approach to Gonzalez will be more conventional.
"It's very different -- I don't think they're going to be real apt to pitch around CarGo with Cuddy sitting behind him," Weiss said. "Cuddy has been one of our best guys in those situations all year. He's been as productive as anybody in those run-scoring at-bats."
Gonzalez admitted to pressing some last year and vows to avoid that this year. The Rockies entered Friday tied with the Giants for second place in the NL West, 2 1/2 games behind the D-backs.
"I've been in this situation before," Gonzalez said. "The last thing I want to do is put pressure on myself, try to carry my team by myself. I tried doing it before and it didn't work. I think it just stressed me and it affected me, affected my game, when I tried to do it by myself.
"That's why I tell you we need everybody's help and everybody to contribute."
Thomas Harding is a reporter for MLB.com. Read his blog, Hardball in the Rockies, and follow him on Twitter @harding_at_mlb. This story was not subject to the approval of Major League Baseball or its clubs.