Yankees stumble in Anaheim lid-lifter
Yankees stumble in Anaheim lid-lifter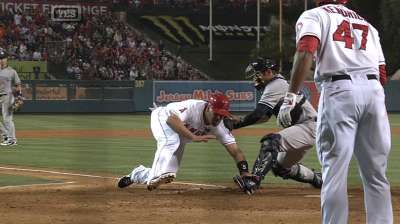 ANAHEIM -- The Yankees' scoring drought came to an end, but their losing streak continued with a 5-2 loss to the Angels on Friday night.
New York entered Angel Stadium -- the last stop on a 10-game road trip -- losers of three straight, but left-hander Andy Pettitte, who entered play 89-50 following a Yankees' regular-season loss, was ready to take the ball.
The veteran left-hander couldnt rekindle the magic, however, allowing four runs and a season-high 11 hits in seven innings.
"When you're struggling, you need someone to go out there and throw some zeroes up, and I wasn't able to do that," Pettitte said. "Wasn't able to get it done."
The Yankees are now 3-5 on their road trip, 8-17 at Angel Stadium since 2008 and 3-7 in Pettitte's last 10 starts against the Angels.
David Adams' two-out, two-run single in the fourth inning not only gave the Yankees a 2-1 lead, but it also gave them their first runs in 20 innings.
However, Angels starter C.J. Wilson kept the Bronx Bombers from doing any more damage, as he allowed just five hits in seven innings.
"We didn't do enough today offensively," Adams said. "Some days it doesn't go your way, and it seems to go that way a lot lately."
The Yankees have scored four runs or fewer in 19 of their last 22 games, but manager Joe Girardi refuses to believe his team is pressing.
"I think they're just trying to get the job done," Girardi said. "I've had a hard time figuring out what pressing means, I know what it means in basketball. I think guys are going to give a good effort, that's the bottom line, that's what you want them to do. They're going to work hard and sometimes the results aren't going to be there."
While the results have not been there, Girardi is not concerned with the hitters' pitch selection or approach at the plate.
Girardi feels his team has been approaching everything the right way and that the recent results -- or lack thereof -- are simply something that is bound to happen over the course of a 162-game season.
"Keep fighting through it, that's all you can do," Girardi said. "Every team is going to go through it, we're not immune to it, and we've got to get out of it."
Although the Yankees only scratched across two runs, they were not left without chances. New York went 1-for-6 with runners in scoring position and left seven runners on base, including leaving the bases loaded in the fourth.
"I knew I was going to be able to get out of that inning, it was just a matter of which guy was going to hit the ball on the ground and which guy was going to pop it up," Wilson said. "As a pitcher, you always feel that. That's why you have to have the positive mental attitude."
The Angels collected three hits in the first inning, scoring a run on Howie Kendrick's RBI double.
Albert Pujols had three hits, but it was catcher Chris Iannetta that tied the game and gave the Angels the lead.
Iannetta hit a sacrifice fly to tie the game at 2 in the fourth and gave his team the lead with a two-out single up the middle in the sixth.
"The big thing was two outs," Pettitte said. "Two outs, couldn't get guys. Had an opportunity to get out of innings without giving up runs and just couldn't quite get it done."
Although the Angels led off the sixth with a double from Pujols and a single from Mark Trumbo, it appeared Pettitte was going to escape the inning unscathed after some help from left fielder Vernon Wells, who was returning to Angel Stadium for the first time since being traded during Spring Training.
Pujols tried to score from second on Trumbo's single, but Wells' throw got him at home plate.
Pettitte then got Alberto Callaspo to fly out, but failed to retire Iannetta.
Trumbo would give the Angels an insurance run with an RBI single in the seventh, his third hit.
Coming off an 18-inning loss to Oakland on Thursday, the Yankees may have been dragging a bit.
"A lot of guys probably running on fumes a little bit," Girardi said, "but we don't have an off-day until Monday so hopefully we can come out here and be ready to play and get a good start from [David] Phelps and score some runs."
William Boor is an associate reporter for MLB.com. This story was not subject to the approval of Major League Baseball or its clubs.