Hanley returns to starting lineup vs. Pirates
Hanley returns to starting lineup vs. Pirates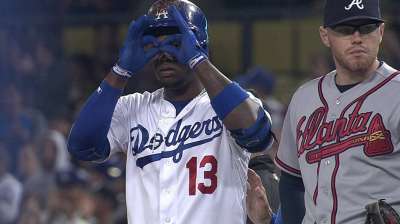 PITTSBURGH -- Hanley Ramirez made his return to the Dodgers lineup on Friday, batting cleanup and playing shortstop.
Ramirez was in the Dodgers' lineup on June 4 after playing just four games earlier in the season while dealing with an injured hamstring. However, he had played sparingly in the last week, pinch-hitting on four occasions -- most recently Wednesday -- but not starting.
Ramirez's return allowed Dodgers manager Don Mattingly -- who on Friday served his one-game suspension for his role in Tuesday's scuffle with the D-backs -- to slide outfielder Yasiel Puig to the leadoff spot and out of the four-hole.
Mattingly said he considered hitting Puig, who entered Friday with four home runs and 10 RBIs in 35 at-bats, in the five-spot, but wanted to maximize his at-bats. Puig was batting .486 with a 1.399 OPS in his first 10 games.
"I like him getting that extra at-bat up top," Mattingly said. "If he comes up again and you're down a run, he can steal a base, he can hit a homer, he can hit a double. He's getting the extra at-bat and that's what I like."
Steven Petrella is an associate reporter for MLB.com. This story was not subject to the approval of Major League Baseball or its clubs.