Zunino, Saunders lead Mariners over A's
Zunino, Saunders lead Mariners over A's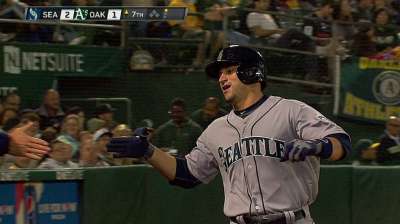 OAKLAND -- Sure it was against a team that had played 18 innings the day prior, and sure it was at a ballpark relatively close to home, but Joe Saunders finally pitched well on the road.
Seattle's left-hander won his first road start of the season on Friday night against the A's, tossing seven innings and allowing one earned run in the Mariners' 3-2 series-opening win.
He entered Friday's contest 0-4 with a 9.00 ERA in six road starts this season, but limited Oakland -- tied with Boston for the best record in the American League -- to just five hits, striking out four and walking two against one of baseball's hottest teams.
Even that lone run -- an RBI double by Eric Sogard in the fifth -- was questionably charged to the left-hander. A collision by Nick Franklin and Jason Bay in right field with two outs led to A's third baseman Adam Rosales scoring from second.
The Mariners' go-ahead run, however, came from an encouraging source in rookie catcher Mike Zunino, whose solo shot in the seventh sailed well over the 400-foot fence in center field for the first of his career.
"That ball went a long way," manager Eric Wedge said. "It went up in the air different, so you knew it had a chance to end different, and that's what happened."
Zunino's homer came off an 80-mph changeup from A's starter Tommy Milone, with his base hit up the middle Wednesday also coming off a breaking ball.
"I think it's just pitch selection," Zunino said. "I think I'm becoming more patient and trying to take more pitches, and I think that's helped so far."
Friday was just Zunino's second game of his career, and perhaps he's deserving of credit for Saunders' outing as well, which tied for his longest on the road this season.
He also displayed an aptitude behind the plate, tagging out Nate Freiman, Oakland's 6-foot-8 first baseman and Zunino's opponent from fall league, at the plate to save a run in the second.
"He did a nice job of extending himself and carrying himself with the runner there," Wedge said. "It was a big league play."
"It makes me feel really old," Saunders said of his catcher's play.
Yet it was Saunders who showed new life Friday, commanding his fastball consistently for strikes, mixing his pitches well and forcing groundballs with his sinker.
"The ball was moving good," A's manager Bob Melvin said. "We had a few lefties in there that were a good matchup for him, based on some of our injuries. He had big outs against the lefties and pitched in just enough to open up away."
Saunders was Seattle's biggest question mark headed into a three-game series that would serve the Mariners well to sweep if they intend on making a push in the AL West. With the win, Seattle now trails Oakland by 10.5 games with Felix Hernandez getting the call on Saturday.
"It's just a matter of being consistent and staying confident in what you can do," Saunders said. "You know you can do this. It's just a matter of now doing it. Hopefully, this team can get on a little bit of a roll and we can get some wins up there."
The Mariners are better equipped to climb in the standings with the return of Kendrys Morales and Michael Morse to the lineup after missing Wednesday's 6-1 loss to Houston with lingering injuries. Morse went 1-for-3 with one walk and one run scored in the second for the Mariners' first run of the game.
The bullpen, meanwhile, is still in question with newly demoted reliever Tom Wilhelmsen leaving a vacancy for Seattle's closer role.
With everyone in the bullpen a candidate to fill the void, Danny Farquhar gave up a home run to Chris Young to lead off the eighth inning to move the A's within one. Wedge, who has yet to decide on a full-time closer, turned to Oliver Perez in the ninth to close out the game for the first save of his career.
"I wanted a lefty out there because they have a strong bench and I didn't want to see him send those guys out there," Wedge said, adding that he was the ideal choice for "the first time we do this. We'll obviously have some other guys ideally we want to use."
Jeff Kirshman is an associate reporter for MLB.com. This story was not subject to the approval of Major League Baseball or its clubs.