Byrd providing Mets with much-needed power
Byrd providing Mets with much-needed power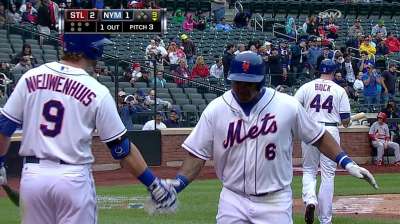 NEW YORK -- For the first five seasons of his Major League career, Marlon Byrd never flashed power potential. He hit just 20 home runs from 2002-06 and spent his time bouncing between the Majors and Triple-A.
In 2007, things started to click. The outfielder spent the offseason completely retooling his swing and overhauling his mechanics. Then he hit double digit home runs in four straight seasons.
"It's just one of those things where you've got to get your swing right," Byrd said.
Byrd faded a bit over the past two seasons and played only 47 games with the Red Sox and Cubs in 2012, but he's reemerged as a surprising power presence in the middle of the Mets' lineup, smacking home runs on Wednesday and Thursday to reach double digits for the fifth time in the past seven seasons.
"I'm taking a good approach to the game, fixing my mechanics and swinging at strikes," Byrd said. "When I don't swing at strikes, I don't get any hits."
While New York has struggled to score runs this season -- the Mets have scored fewer than all but five teams -- it's been relatively successful in hitting balls out of the park. The Mets' 63 home runs are one more than the league average and tie them for sixth among National League teams entering Friday. Byrd's 10 home runs rank third on the team.
In many ways, 2013 has been Byrd's best season. He likely won't be an All-Star -- like he was in 2010 with the Cubs -- but he's on pace for a career-high 26 home runs, and his five home runs in May were tied for his most in a month.
In June, he's picked things up even more. He smacked two home runs on June 5 against the Nationals before launching two more this week. He's raised his average from .241 at the end of May to .252 entering Friday. For a struggling New York lineup, he's been a revelation in the middle of the order.
"It's just one of those things when you're feeling kind of good and you get a streak, you try to ride it as long as possible," Byrd said. "And I just put a couple good swings on the ball and they're going out."
Anthony DiComo is a reporter for MLB.com. Follow him on Twitter @AnthonyDicomo. David Wilson is an associate reporter for MLB.com. This story was not subject to the approval of Major League Baseball or its clubs.