Young and Milone impress, but A's fall short
Young and Milone impress, but A's fall short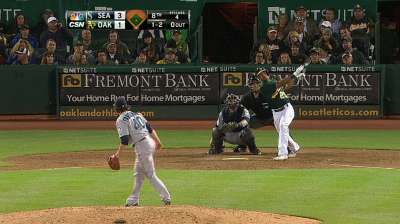 OAKLAND -- The A's showed up to the Coliseum on Friday trying to play through the weariness that resulted from an 18-inning marathon the previous day.
"You couldn't tell," manager Bob Melvin said. "Everything looked good out there."
Seattle, which spent Thursday enjoying an off-day, was even kind enough to lend the A's some help by way of a misplayed fly ball that led to a run.
But it wasn't enough, despite an impressive performance from starter Tommy Milone and a three-hit night from Chris Young, in the A's 3-2 loss, snapping Oakland's 11-game home winning streak.
Young, batting from the leadoff spot for the first time this season in the injured Coco Crisp's stead, reached base in all four plate appearances, his last resulting in a monster home run to left field off reliever Danny Farquhar.
Young had just four hits in his previous 49 at-bats.
"I've seen him do that in the one-spot before several times," said Melvin, who was also with Young in Arizona. "I think that invigorated him a little bit being back in that leadoff spot. It looked like the guy I've seen plenty times in the past, so it was good to get him a good game even though it was a loss."
"I felt good today," said Young. "No matter where I'm at in the lineup, I'm trying to produce and make the necessary adjustments to have some success. That definitely sparked me up a little bit.
"It's tough to explain the adjustments and mechanical things I've been working on just because you start thinking about them even more, but basically it's been about trying to feel more comfortable in the box to give myself a little more time to recognize pitches."
Milone, meanwhile, gave his club 6 2/3 innings, utilizing 113 pitches along the way, and limited the Mariners to two runs on just five hits with four strikeouts and three walks.
It was the third straight outing Oakland's southpaw hasn't allowed more than two runs, and he's now done that in half of his 14 starts this season for a 3.61 ERA.
Seattle's 2012 first-round Draft pick, Mike Zunino, hit his first Major League home run -- a solo shot to dead center off Milone with one out in the seventh -- and that nearly proved the difference in this one, before the Mariners added on against righty Dan Otero, called up just Friday afternoon, in the next frame.
"It was a changeup, just right down the middle," Milone said. "The only video we had of him was him facing a righty, and it was four at-bats, so we didn't have much, but knew he's aggressive, that's about it. I was just trying to get a weak contact and I left it up and he barreled it."
The A's managed just five hits off lefty Joe Saunders, who probably didn't mind that Oakland was missing a pair of its most valuable offensive players.
Josh Donaldson (hamstring) and Coco Crisp (heel) are a combined 11-for-27 against Saunders, but were deemed unavailable, leaving the job up to a lineup that managed just five hits in seven innings off the southpaw.
Oakland's first run came in the fifth, when Adam Rosales reached on a force out and Eric Sogard followed with an RBI double seen daily in Little League games, but rarely in the Majors.
Second baseman Nick Franklin and outfielder Jason Bay both went after Sogard's fly ball to shallow right field, and the Mariners teammates collided while the ball bounced off Franklin's glove and far away from them, easily allowing Rosales to score.
The A's nearly had another run back in the second, when Nate Freiman laced a double to left field and tried to score on Derek Norris' single, but he stalled at third base, allowing center fielder Michael Saunders and shortstop Brendan Ryan enough time to combine for a relay throw that got him at the plate.
"He just got a bad read on the ball," Melvin explained. "It's up the middle, and he's gotta know if it's behind him, where the infielders are. He just didn't get as good a break as he normally would, and after that, he's being held and he waits and just didn't have enough momentum to score."
Freiman admitted to not reading the ball off the bat well, saying, "that was the difference of me being safe and out there."
Jane Lee is a reporter for MLB.com. This story was not subject to the approval of Major League Baseball or its clubs.