Giants putting off DL decision on Scutaro
Giants putting off DL decision on Scutaro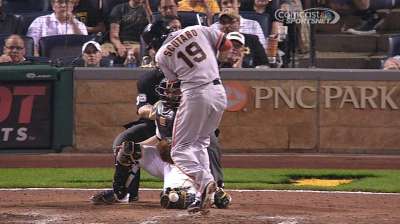 ATLANTA -- The Giants likely will decide by the middle of next week whether to place second baseman Marco Scutaro on the 15-day disabled list.
Scutaro, who was diagnosed with a mallet finger on his left pinkie after he was hit by a pitch last Tuesday at Pittsburgh, showed signs of improvement Friday. A Bay Area News Group reporter spied him taking practice swings in an indoor batting cage.
Scutaro, who ranks fourth in the National League with a .332 batting average, still missed his third game in a row. Manager Bruce Bochy cited the seven- to eight-day mark as the juncture when the Giants will determine whether to let Scutaro continue to heal while on the active roster.
"A lot depends on how we're holding up, if we get short on infielders," Bochy said. "Then we might have to make a move."
Bochy acknowledged that Scutaro's finger is "calming down." Scutaro will be fitted for a custom orthotic for his finger next week. The apparatus will be required to help Scutaro straighten his finger, which will be necessary for his healing.
Chris Haft is a reporter for MLB.com. This story was not subject to the approval of Major League Baseball or its clubs.