Porcello dominant as Tigers top Twins
Porcello dominant as Tigers top Twins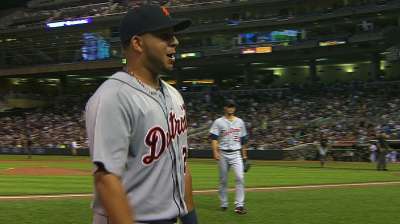 MINNEAPOLIS -- After five scoreless innings at Target Field, Prince Fielder came through for the Tigers once again.
With two outs in the sixth and runners on first and second, Fielder hit his second double of the game, bringing in Austin Jackson and Miguel Cabrera as the Tigers went on to score four times for a 4-0 victory over the Twins on Friday night.
Rick Porcello threw seven shutout innings, limiting the Twins to three hits, but needed Fielder's clutch hit to earn the victory.
Fielder now has a .280 batting average and 28 RBIs this season when batting with two outs.
"Prince Fielder has done a very good job of coming through in those situations," Tigers manager Jim Leyland said.
"Historically I've been pretty successful against Fielder," Twins' starter Scott Diamond said. "I thought it was a good pitch, but I think I earlier in the game I had a chance to buzz him and get him off the plate and I didn't take advantage of it and it cost me in that at-bat. It kind of let the floodgates open in the sixth."
Diamond battled through five scoreless innings, before the Tigers got to him in the sixth. Jackson walked with one out and was advanced to second on a tapper in front of the mound by Torii Hunter.
Cabrera was then intentionally walked for a league-leading ninth time this season. With two runners on for the first time in the game for either team, Fielder knocked a two-run double off the wall in center field to give the Tigers a 2-0 lead.
The Tigers were just getting started. Victor Martinez followed Fielder with an RBI double, which was immediately followed by another RBI double from Jhonny Peralta, giving Detroit a 4-0 lead. Diamond was finally lifted after giving up four runs on five hits and two walks in 5 2/3 innings of work.
"I thought we did a really good job when Diamond finally made a couple mistakes," Leyland said. "He was off the center of the plate all night long until that inning where we scored. He finally made a couple mistakes and we jumped him. He's got a good track record against us. I was worried about him."
Porcello worked steadily through his seven shutout innings, striking out five. Porcello's outing was only the third time this season he pitched seven-plus innings -- seven innings at Houston on May 2 and eight against Pittsburgh on May 28.
"He was terrific," Leyland said. "He kept the ball on the ground. A good sinker, but the stuff that really set his sinker up lately is his secondary stuff. They're not just sitting on a fastball any more. That's been a huge difference for him in my opinion."
"My off-speed stuff is getting a lot better, so I'm going to continue to get breaking pitches over the plate and switch up my pitches," Porcello said. "That's what's helping me this year have some success -- throwing my breaking ball for strikes and using my changeup."
While Porcello excelled through seven, the Tigers bullpen struggled in the eighth, as lefty Drew Smyly allowed a pair of baserunners with one out before Joaquin Benoit got a strikeout and groundout to end the inning, giving way to Jose Valverde, who closed out the ninth in a non-save situation.
In his brief appearance, Smyly gave up a walk to Clete Thomas and Valverde led off the ninth with a walk to Joe Mauer. Walks aside, Leyland was satisfied with his bullpen's effort.
"I thought everybody did a good job, with the exception of a couple walks. Those are no-nos."
While Leyland was pleased with getting his offense going again, Twins manager Ron Gardenhire lamented the outcome.
"It was a tough night," Gardenhire said. "We didn't do much offensively. Porcello was tough. His ball was diving all over the place and he had a nice breaking ball with his fastball coming back over the plate.
"Diamond matched him for a long time there, but then walked a guy in the sixth and got us in that awful situation where he had to walk a guy and didn't work out too well with three doubles in a row."
Kelly Erickson is an associate reporter for MLB.com This story was not subject to the approval of Major League Baseball or its clubs.