Bruce's walk-off homer wins it for Reds in 10th
Bruce's walk-off homer wins it for Reds in 10th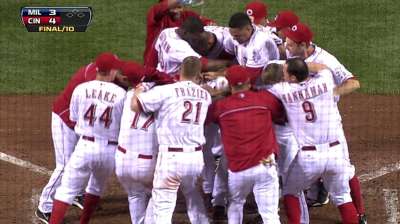 CINCINNATI -- This time the Cincinnati offense wouldn't let the club's baffling eighth-inning struggles hold it back, as Jay Bruce's 10th-inning homer to left gave the Reds a 4-3 walk-off win over the Brewers at Great American Ball Park on Friday.
It was the same story all over again. The day after blowing a one-run lead in the eighth and losing to the Cubs in extra innings, the Reds entered the eighth on Friday with a 3-2 lead, only to see it slip away on Martin Maldonado's solo shot off starter Bronson Arroyo.
On Thursday, the Cincinnati bats went cold en route to a 14-inning loss. But all it took was one down and away sinker for Bruce to help the Reds avoid a similar fate on Friday.
"Yesterday was a little disheartening," Bruce said. "We were out there a long time, used a lot of people and frankly, probably everyone was a little tired today. Bronson pitched a great game, and to at least salvage a little bit from it was good."
Bruce's blast was his 11th of the season and his fifth career walk-off homer.
"I just told someone earlier, that never gets old," Bruce said. "I've hit some homers in my career, but walk-offs are completely different every time. It's different circumstances. Like I said, that one was a little sweeter just because of yesterday, and to pull that one off at home was a good start to the series."
For the first seven innings, the top storyline was the errors committed by both teams. Two of the Reds' three runs came thanks to Milwaukee miscues, while the Brewers capitalized on one of Cincinnati's three errors.
The first unearned Reds run came in the second with Cincinnati already holding a 1-0 lead on Brandon Phillips' RBI single. Following Zack Cozart's leadoff base hit and Ryan Hanigan's single that bounced off the glove of Segura, second baseman Scooter Gennett mishandled a softly hit grounder off the bat of Shin-Soo Choo, allowing Cozart to score and give Cincinnati a 2-0 lead.
After Gennett hit his first career homer in the third to make it 2-1, it was Milwaukee's turn to take advantage of Cincinnati's mistakes. With one out and a runner on first in the sixth, Yuniesky Betancourt reached on a fielding error by third baseman Todd Frazier. Logan Schafer then loaded the bases with a single, setting up Maldonado, who was hit by an Arroyo pitch to drive in the tying run.
But much like Gennett did for the Brewers with his homer, Frazier wasted little time redeeming himself for his error.
Milwaukee starter Kyle Lohse retired his 12th straight batter to open the sixth, but Frazier stopped that run when he singled up the middle. With Jack Hannahan at the plate, Frazier broke for second and Lohse threw the ball to first. Betancourt's subsequent throw to second bounced into the outfield, allowing Frazier to advance to third, and he scored the go-ahead run on Hannahan's sacrifice fly.
Arroyo overcame the errors to pitch a strong game, despite giving up a season-high 12 hits, the most by a Reds pitcher in a game this season. The 36-year-old right-hander went 7 2/3 innings, which was exactly what manager Dusty Baker needed after using seven pitchers in Thursday's loss.
Arroyo said he felt "really fresh," and if the Reds had built a bigger lead, he thought he had a chance to pitch a complete game. But with two outs in the eighth and Arroyo behind in the count to Maldonado, he wanted to avoid putting a runner on base. Instead, he hung a pitch that Maldonado sent into the left-field bleachers to tie the game.
"I knew I needed one more out, and then probably turn the ball over to [closer Aroldis Chapman]," Arroyo said. "I felt strong. That's as good as I've felt all year as far as deep in the ballgame. I felt like I could have thrown four more innings, but sometimes you win those, and sometimes you get burned on them. It was a 2-0 breaking ball I left a little bit middle."
After staying in the game and giving up two singles and a walk to load the bases, Arroyo handed the ball over to reliever Sam LeCure, who lost the lead in the eighth inning on Thursday. LeCure had better luck on Friday, inducing Jean Segura's shallow pop up.
Lecure also blew a lead in a loss to the Cardinals on Sunday.
"It was nice to have an opportunity," LeCure said. "Obviously if Bronson would have finished it off, that would have been awesome, but for me personally that was huge to just kind of get back on the right track."
Chapman had no trouble in the ninth, setting down the Brewers on two strikeouts and a groundout before Alfredo Simon delivered a perfect 10th for his fifth win of the season.
Phillips led off the 10th with a fly out in foul territory, but Bruce snuck the game-winning homer over the left-field wall four pitches later.
The Brewers had no idea the ball would carry the way it did.
"I was wondering why the crowd was cheering," said Burke Badenhop, who threw the final pitch and fell to 0-3. "But they see more games here than I do."
The Reds (41-27) won for the fourth time in five games and moved to within 2.5 games of NL Central-leading St. Louis.
"Big win for us," Arroyo said. "The Cardinals lost tonight, and we'll definitely take that game."
Jeremy Warnemuende is an associate reporter for MLB.com. This story was not subject to the approval of Major League Baseball or its clubs.