Marcum can't contain Cubs, remains winless
Marcum can't contain Cubs, remains winless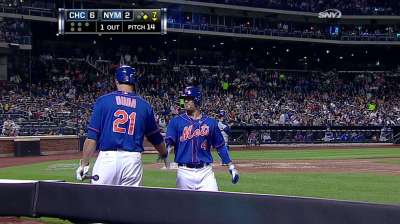 NEW YORK -- Soon, somebody will lose his job in the Mets' rotation. Terry Collins made that abundantly clear on Friday afternoon, saying that despite using a six-man rotation for now, the Mets will cut back down to five shortly after uber-prospect Zack Wheeler arrives.
The popular line of thinking suggests that either Jeremy Hefner or Dillon Gee will head to the bullpen at that time. But by most measures, both of those pitchers have been better than Shaun Marcum, who was battered Friday in a 6-3 loss to the Cubs at Citi Field.
"I haven't really thought about it," Marcum said of his rotation spot, noting all the rainouts and extra-inning games that have wreaked havoc on his pitching schedule. "We'll see what happens."
To be fair, Marcum has been quite serviceable of late, pitching eight sterling innings of relief in the Mets' 20-inning loss to the Marlins last Saturday, which lowered his ERA to 3.41 since May 15. But the Cubs jumped on him for four runs in the second inning Friday and six in total, bloating his season ERA back up to 5.43.
"He's a professional," Collins said. "He knows you've got to go out and get the job done. Down the road, that's a long way off right now. I don't know what we're going to do."
After Nate Schierholtz opened the scoring with a solo homer in the first, Marcum put the first four men he faced in the second on base. With one of that quartet already in, David DeJesus then ripped a three-run triple just out of the reach of center fielder Juan Lagares.
Marcum settled down after that, retiring 11 in a row before Anthony Rizzo doubled with one out in the sixth. He departed two batters later, after Luis Valbuena drove Rizzo home with a two-base hit to center.
It was simply too much offense for the Mets, who have scored more than six runs in a game just twice since May 4. Though the Mets put nine runners on base over Cubs starter Edwin Jackson's first five innings, they cashed in only one of them on a Daniel Murphy RBI single in the third.
"I had a couple stressful innings," Jackson said. "Fortunately enough, I was able to make pitches to get out of those innings."
The Mets' big push did not come until the seventh, after Jackson left the game. Collin Cowgill doubled to spark things, scoring on Murphy's one-out hit. David Wright then singled, reaching base safely for the seventh consecutive plate appearance, and Lucas Duda followed with a hit to left. Though Murphy scored easily on the play, Wright was thrown out attempting to go first to third in a three-run game. The rally fizzled quickly after that.
"I think it's the right play," Wright said. "I'll do it again. It just takes a great throw, a great play by [Alfonso] Soriano, and he made it."
In defeat, Marcum dropped to 0-8, moving him even with Houston's Philip Humber -- a former Mets first-round Draft pick -- for the most losses in the big leagues without a win.
In doing so, he also potentially complicated things for the Mets' decision-makers. For at least one more turn through the rotation, Marcum's job is clearly safe. The team has decided to proceed with a six-man rotation for now, allowing everyone -- including Wheeler, the new kid -- to receive ample rest in the days following Tuesday's doubleheader.
But at some point likely around the end of the month, someone must go to the bullpen. Collins previously pointed to Gee as the leading candidate, but Gee has since responded with some of his best baseball of the season. That might in turn have put Hefner at risk, but outside of Matt Harvey, Hefner has been the team's most consistent starting pitcher for the better part of two months.
Next in the queue is Marcum, whose stat line has yet to recover from a brutal start to the season. But Marcum holds the two most significant trump cards of all -- not only are the Mets paying him $4 million guaranteed, but Marcum's one-year deal also makes him obvious Trade Deadline fodder. Moving him to the bullpen would only serve to dampen his value.
Still, performance is critical, and Collins indicated that each pitcher's results will ultimately dictate the decision.
"When it comes down to the time to make [that decision], I'm not sure that salary is going to have anything to do with it," Collins said. "I'm going to take the five guys that we need."
Anthony DiComo is a reporter for MLB.com. Follow him on Twitter @AnthonyDicomo. This story was not subject to the approval of Major League Baseball or its clubs.