Jackson makes early runs stand up for Cubs
Jackson makes early runs stand up for Cubs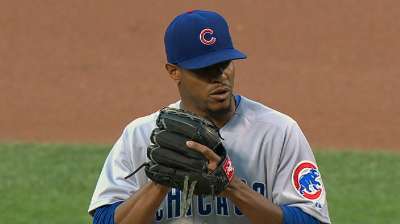 NEW YORK -- It was a luxury Edwin Jackson hasn't received too often this season. With the Cubs having a big inning at the plate early on Friday, Jackson had some runs to work with. He didn't have to be perfect, but with plus velocity on his fastball and a superb slider, Jackson challenged the Mets and stymied them for most of the night.
"More times than not, it's going to be close games and you've got to pitch mistake-free or pretty close to it," Jackson said. "When you come out and get an offensive explosion like we did tonight, it's definitely great."
The Cubs scored four runs in the second inning off Mets starter Shaun Marcum, and that was all Jackson needed in Chicago's 6-3 win over New York at Citi Field in front of 32,208. He pitched six innings, and gave up just one run on five hits with seven strikeouts and three walks. Chicago, which came into the game scuffling at the plate, knocked around Marcum early on.
That included a 3-for-4 night from first baseman Anthony Rizzo. Cubs manager Dale Sveum moved Rizzo down to the fifth spot in the lineup and Nate Schierholtz up to third, and for Friday's game at least, the moved worked. Schierholtz hit a solo home run in the first.
Rizzo's first hit was a bloop single to center field in the second inning that Sveum said he might have needed to break out of his slump.
"Hopefully, that blooper got things going," Sveum said. "He hit two balls hard."
More importantly for the Cubs, that blooper also started their big inning.
Dioner Navarro followed Rizzo's single with one of his own, and then Marcum walked Luis Valbuena to load the bases. Darwin Barney singled in a run, and then David DeJesus hit a bases-clearing triple to center field for a 5-0 lead.
DeJesus, though, had to leave the game in the third inning after crashing into the outfield fence trying to make a catch. He was diagnosed with a sprained right shoulder.
Chicago scored again in the sixth inning on an RBI double from Valbuena.
The Mets scored their only run off Jackson on an RBI single from Daniel Murphy in the third inning. Other than that, though, Jackson was stellar.
"He pitched good. I don't think he had great command of his fastball, but I think he had one of his better sliders tonight," Sveum said. "That's for sure. I think he had the depth on it, and the velocity, and he got a lot of swings and misses and no contact at all on his slider."
Still, Jackson had some tense innings.
He had runners at first and second with one out in the fourth, but got Juan Lagares and Marcum to fly out. Then in the fifth, he had runners at first and second with two outs, but struck out Marlon Byrd to end the inning and get out of trouble.
"I had a couple stressful innings," Jackson said. "Fortunately enough, I was able to make pitches to get out of those innings."
This was Jackson's second straight start in which he's only given up one run. It was just two starts ago when he gave up seven runs on 12 hits against the D-backs.
Sveum said he wasn't sure if the radar gun at Citi Field was off, because it looked like Jackson was throwing harder than the gun indicated -- especially since Sveum said Jackson was hitting 97 mph against Pittsburgh on Sunday.
Regardless of what the radar gun said, Sveum saw Jackson's plus stuff.
"The conviction on all his pitches, and his velocity and all that stuff," Sveum said. "But you could see the conviction in the pitches and not trying to be a pitcher as much as just a stuff guy -- getting guys out with his stuff."
Mets third baseman David Wright, who went 3-for-3 with a walk, was one of the few Mets to have success against Jackson.
Wright said that when New York fell behind so early in the game, it was going to be tough for the Mets to climb back out of the deficit. That's especially true considering the way Jackson was pitching.
"It's difficult when you get behind early, especially when the offense is struggling, you know that you're going to have that uphill battle," Wright said. "We have some guys who can hit home runs, but we're not built to kind of get back in the game with one swing."
Given an early lead, Jackson bore down on the Mets' hitters. He got swings and misses, worked out of jams, and most importantly for Chicago, never gave that lead away.
It isn't too often that he has one of those big leads. He did everything he could to hold it.
"I was just trying to come out and continue to battle and continue to help the team win," Jackson said. "When we come out and scored like we did and got early runs, as a starter you definitely will take that anytime."
Chris Iseman is an associate reporter for MLB.com. This story was not subject to the approval of Major League Baseball or its clubs.