Brewers fall to Reds on walk-off homer in 10th
Brewers fall to Reds on walk-off homer in 10th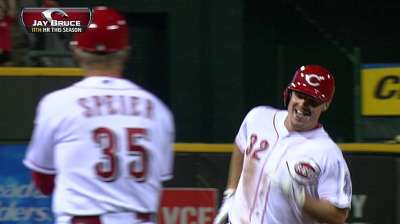 CINCINNATI -- Long before Jay Bruce delivered his latest big blow against the Brewers, this was not a particularly pleasant Friday night for Milwaukee manager Ron Roenicke. He knew before his club's series opener against the Reds that his best player, Ryan Braun, was bound for the disabled list with a hand injury. Then he watched his team revert to its losing ways, spotting the Reds two unearned runs and squandering a slew of offensive opportunities in a 10-inning, 4-3 loss at Great American Ball Park.
It was salt in the wound when Bruce won the game with a homer that, off the bat, looked to the Brewers like a routine fly ball to left.
"I was wondering why the crowd was cheering," said a befuddled Burke Badenhop, who threw the final pitch and fell to 0-3. "But they see more games here than I do."
Cincinnati-born second baseman Scooter Gennett celebrated his homecoming by hitting his first Major League home run, the first of his three hits, and catcher Martin Maldonado hit a tying homer with two outs in the eighth. Otherwise, it was a night short of highlights for the Brewers, who committed a pair of errors that led to runs and finished 1-for-9 with men in scoring position while stranding 11 runners on base.
Milwaukee has lost five straight games here dating to last season, including all four matchups between the teams in 2013.
Did it feel like a game that got away?
"Yeah, definitely," Roenicke said.
Take the Reds' first-inning run against tough-luck Brewers starter Kyle Lohse, who surrendered a leadoff double to Shin-Soo Choo and saw Choo steal third. With one out, the Brewers pulled their infielders in and Brandon Phillips bounced a run-scoring single over shortstop Jean Segura's head.
In the second, the Reds scored with a rally that began with back-to-back singles, including a scorching Ryan Hanigan hit that took a big hop and nearly struck Segura in the face. Both runners advanced on Bronson Arroyo's bunt before Choo hit a chopper that slipped under a charging Gennett's glove for a run-scoring error.
The Reds' other unearned run came in the sixth, when Lohse had Todd Frazier picked off first base but Brewers first baseman Yuniesky Betancourt bounced a throw past second. Frazier moved to third and scored on Jack Hannahan's sacrifice fly.
The Brewers had similar opportunities but could not cash in. They stranded runners in scoring position six different innings, and left the bases loaded in the sixth and the eighth.
"The whole thing didn't have a good feel," Roenicke said. "There were probably four things we did early in the ballgame, and all of them went wrong."
Despite his three hits, some of those things went wrong for Gennett, the 23-year-old who was born in Cincinnati and lived here until he was 10. He returned in high school to play for a prestigious touring team but had not been back since. He spent Thursday's off-day visiting his old school and ball fields.
Gennett's highlight came in the third, when he connected with an Arroyo sinker for a home run to the right-field seats, cutting the Brewers' deficit to 2-1. Gennett also doubled leading off the fifth and singled after Maldonado's tying homer in the eighth.
But there were missed opportunities, most notably in the sixth after Maldonado was hit by a pitch with the bases loaded, forcing home a run that tied the game at 2. Gennett batted with one out and the go-ahead runner at third, but hit a pop up to shallow left for the second out. And the rally ended when Lohse grounded into a forceout.
"Yeah, I had the home run and all that, but it's all about winning," Gennett said. "I got up with the bases loaded and didn't contribute in getting that run in. It's all about getting the 'W,' so, yeah, I had a good night at the plate, but winning is more important."
Still, his three hits were memorable. Gennett's first big league home run came with his father and his girlfriend in the stands with his uncles, aunts, cousins and a slew of childhood friends.
"It's weird how that works," he said. "It's a great feeling, not only being in Cincinnati but having all my fans, family and friends get to see it. It was a good experience."
It would have been much better with a victory. But after the Brewers squandered their bases-loaded opportunity in the eighth inning against Arroyo and Reds reliever Sam LeCure, who retired Segura on a pop up, the Brewers didn't have another baserunner. Aroldis Chapman blew the Brewers away in a perfect ninth, and Alfredo Simon pitched a hitless 10th for his fifth win.
Bruce won the game by connecting with a two-strike sinker from Badenhop. Bruce said it "snuck out." The Brewers didn't think it had a chance.
"Off the bat, I didn't think so," Badenhop said. "[Left fielder Logan] Schafer didn't think so. [Center fielder Carlos Gomez] didn't think so. I thought maybe the pitch was flat or something. I didn't finish it great, so it probably didn't have a ton of life to it. I mean, he got under it. But what did you see?"
Fans saw an uplifting victory for a Cincinnati club that went 14 innings in a loss to the Cubs at Wrigley Field the day before.
"Yesterday was a little disheartening," Bruce said. "We were out there a long time, used a lot of people and frankly, probably everyone was a little tired today. But that was a big win, regardless."
Bruce has tortured the Brewers over the years. He has more home runs (23) and RBIs (53) against Milwaukee than any other club.
"He gives us trouble," Roenicke said. "But when he hits a homer, it's usually mashed."
Adam McCalvy is a reporter for MLB.com. Read his blog, Brew Beat, and follow him on Twitter at @AdamMcCalvy. This story was not subject to the approval of Major League Baseball or its clubs.