Lucroy among MLB's most productive catchers
Lucroy among MLB's most productive catchers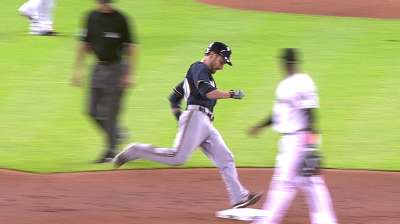 CINCINNATI -- It was only a few weeks ago that Brewers catcher Jonathan Lucroy was lamenting his unproductive start to the season. Now look where he ranks.
Lucroy entered Friday night tied with All-Stars Buster Posey of the Giants and Matt Wieters of the Orioles for the most RBIs (35 apiece) as a catcher. Lucroy, who has 37 RBIs total, has shot up the leader board by logging 17 RBIs since May 31.
"It was a matter of staying persistent and working hard," Lucroy said. "I take a lot of pride in driving people in. Regardless of my average, I want to produce, I want to help the team win, I want to score runs.
"With [Aramis Ramirez] being kind of on and off playing because of his injury, and Corey [Hart] not being in, and [Ryan Braun], his injury, I feel like a lot of the responsibility falls on me to get the job done. I've been fortunate to be put in some situations to drive runners in."
Lucroy, hitting .265 with six homers, did not start Friday because his backup, Martin Maldonado, has been catching right-hander Kyle Lohse's starts. Maldonado drove in two runs, including the tying homer in the eighth inning of a game the Brewers lost in 10, 4-3.
Lucroy's 17 RBIs over his last 12 games were third most in the Majors during that span, trailing the 18 from Paul Goldschmidt of the D-backs and Carlos Gonzalez of the Rockies.
In his first 44 games, Lucroy had only 20 RBIs while batting .229, a slow start he continued to resist pinning on the World Baseball Classic. Lucroy was a backup for Team USA and saw only five at-bats in the tournament, then continued to struggle upon his return to the Brewers.
Would he play in the tournament again if asked?
"If I had a chance of playing more, I think I might," he said. "Are you doing yourself a disservice by going and not playing [with your team] in Spring Training? It's a delicate balance."
Adam McCalvy is a reporter for MLB.com. Read his blog, Brew Beat, and follow him on Twitter at @AdamMcCalvy. This story was not subject to the approval of Major League Baseball or its clubs.