Ludwick throws for first time, still ways away
Ludwick throws for first time, still ways away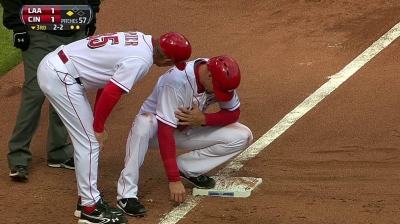 CINCINNATI -- Recovering from a torn labrum in his right shoulder, Ryan Ludwick knows he's still about two months away from returning to game action. So when the Reds outfielder was getting ready to throw on the field at Great American Ball Park for the first time since he was injured on Opening Day, he wasn't as excited as one might guess.
"It's just another day," Ludwick said. "Still probably about two months to go. I've been throwing a little bit indoors over at [Beacon Orthopaedics and Sports Medicine Clinic], and today I'm going to get out on the field and throw the ball around a little bit, which is nice. I can't catch yet, but just to get out there on the field and toss the baseball around, it should be fun."
Ludwick underwent surgery 10 weeks ago this past Wednesday and said he's right on schedule in his recovery. He said doctors inserted anchors in his shoulder and told him it would take three months to fully heal, leaving about two more weeks before he can resume full activity, which includes "swinging the bat, hitting off the tee, catching, doing all that stuff."
"It's been real tough," Ludwick said. "I don't think anyone wants to miss four, four and a half months of the season. It's not fun. I've spent a little bit too much time at the house, watching the guys on TV a little too much when they're on the road. When you play baseball, that's your livelihood. That's what you do."
Jeremy Warnemuende is an associate reporter for MLB.com. This story was not subject to the approval of Major League Baseball or its clubs.