Salvy, Royals enjoying winning returns vs. Rays
Salvy, Royals enjoying winning returns vs. Rays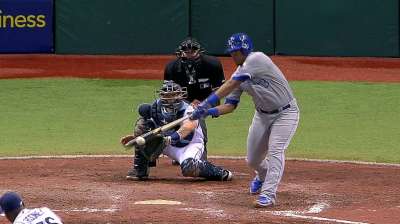 ST. PETERSBURG -- Maybe it's too simple an explanation to lay the Royals' recent run of success on just one reason, but it's clear that they've been better since catcher Salvador Perez returned.
The Royals won for the ninth time in 11 games since Perez came back, as they again knocked off the Tampa Bay Rays, 7-2, on Friday night at Tropicana Field.
"Ever since Sal's been back, we've been hitting real good," designated hitter Billy Butler said. "He's swinging the bat real well and driving in runs, just being as consistent as anyone could be. He's driving in runs, getting on base, hitting tough pitches. Especially with what he does defensively, he's a special player for us."
Perez knocked in two runs with two hits and Butler had three RBIs with two hits and a sacrifice fly in their third straight victory.
"Since we moved Salvy in the three [spot], he and Billy have been a really nice tandem," manager Ned Yost said.
When returning from an eight-game bereavement absence because of his grandmother's death, Perez batted in the seventh spot on June 4, went hitless, and the Royals lost. But he's has batted third in the lineup in the last 10 games and has hit .359 (14-for-39) with 10 RBIs. The Royals have won nine of those games.
"I love to hit. I don't care where I hit, I just love to hit," Perez said.
The Royals, so far, have had a joyful June, posting a 10-3 record after going 8-20 in a mirthless May. They're just one game under .500 at 32-33, breathing down second-place Cleveland's neck in the American League Central standings. And the Indians are their next opponent on this trip.
Right-hander Luis Mendoza earned the latest victory, pitching six-plus innings. With three innings of shutout help by relievers Aaron Crow, Tim Collins and Kelvin Herrera, this marked the 13th straight game -- all the games in June -- that Royals pitchers have held opponents to three runs or fewer. That's a club record.
"They've been carrying us, let's be realistic," second baseman Elliot Johnson said. "Even when we weren't winning games, they were still pitching great. We just weren't picking them up. We were losing 1-0, 2-1 games. Realistically, the offense that we have here, we should be scoring five, six, seven every night. We really should, these guys are really talented."
Well, at least in the last two games they've outscored the Rays, 17-3.
"It's been a fun couple games, it's been a fun stretch here," Butler said. "We had a tough May, June's been great and we just want to continue to play that way."
The Royals scored a first-inning run off left-hander Matt Moore, but Mendoza had a rougher start. Matt Joyce led off the first with a home run, then Ben Zobrist walked and scored on Evan Longoria's double.
"Mendy started out real shaky," Yost said. "He was all over the place and he was behind on everybody."
Mendoza survived some second-inning concern over a sore knee after he covered first base.
"We noticed him with a bit of a limp, but it was the first time he'd run all night and he was fine," Yost said.
Mendoza plugged away through the next five innings without the Rays scoring again. He wound up giving up seven hits after a postgame scoring change changed an error by shortstop Alcides Escobar into a hit for Luke Scott in the seventh.
"We started out so well and their guy settled in," Rays manager Joe Maddon said. "We started chasing a little bit. We were 0-for-9 with runners in scoring position, that's never a good sign. Whereas they were 5-for-11, that was pretty much the offensive side of things."
After an eight-run inning in a 10-1 victory over Thursday night, the Royals settled for half of that in their fifth inning, but that put them in charge, 5-2. Jeff Francoeur's single and Johnson's triple opened the assault on Moore.
Johnson came close to getting his third homer -- all against his Tampa Bay ex-teammates. The ball hit the left-field wall.
"Just looking for a fastball and just missed dropping into the [section] 162 landing area by a couple inches," Johnson said. "But, I'll take a triple any time I can get it."
Escobar followed with an RBI single, Eric Hosmer ripped a double, Perez singled home a run and Butler lofted a sacrifice fly.
For good measure, they added two runs in the ninth against reliever Fernando Rodney. They did it with singles by Alex Gordon, Perez and Butler.
By now, the Royals must be feeling as if they've turned things around.
"It certainly feels like it, doesn't it?" Johnson said. "But, yeah, 10-3 is a pretty good month, especially after such a bad May. We've got to make up for it at some point so there's no time like the present. Let's get 'em now."
That miserable May is finally fading fast in their rearview mirror.
"I just feel like we were catching some bad breaks," Butler said. "We weren't playing good baseball. Our confidence got hit for a while. I feel our confidence is back and we're playing well."
Yost just harrumphed at the idea that the upswing in the Royals' outlook is a new phenomenon.
"About a week ago, we felt that," he said.
Dick Kaegel is a reporter for MLB.com. This story was not subject to the approval of Major League Baseball or its clubs.