Moore, Rays can't right ship against Royals
Moore, Rays can't right ship against Royals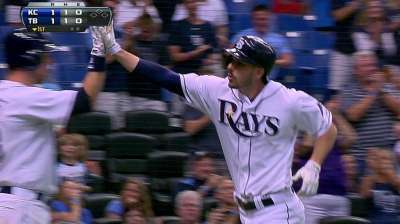 ST. PETERSBURG -- Crooked numbers continued to haunt Rays starters. On Friday night, the Royals hung a four-spot on Rays left-hander Matt Moore in the fifth and came away with a 7-2 win at Tropicana Field.
The Rays dropped their third in a row and fifth in six games as they fell to 35-32. The Royals are now 4-0 against the Rays this season, outscoring them, 34-13.
Coming off two rough starts, Moore escaped trouble in the first and went into the fifth protecting a 2-1 lead.
"I felt like I was cruising for the second and third and fourth," Moore said. "You know the fifth inning ... it's a tough situation to get out of without giving up any runs. Regardless, I have to do much better than putting up a four-spot."
Once again, old friend Elliot Johnson started the trouble. On Thursday night, the former Rays infielder hit a three-run homer. On Friday night, his fifth-inning triple tied the score at 2.
"Just looking for a fastball and just missed dropping into the 162 landing area by a couple inches," Johnson said. "But, I'll take a triple any time I can get it."
Alcides Escobar and Salvador Perez added RBI singles, while Billy Butler added a sacrifice fly to cap the Royals' four-run inning that put them up 5-2, and, essentially, put the game on ice.
Of the five hits Moore allowed in the fifth, three came when he was ahead in the count and two with two-strike counts. During the inning, the Royals collected a hit on every pitch in Moore's arsenal, including three on fastballs, one on a changeup and one on a curve.
If something felt familiar about the big inning, it was the fact that Jeremy Hellickson started for the Rays on Thursday night and pitched five scoreless innings before surrendering eight runs in the sixth.
"The big inning's really been kind of a pain in the backside," Rays manager Joe Maddon said.
Moore allowed five runs on seven hits and four walks en route to his third loss in his last three outings. He entered June at 8-0 with a 2.18 ERA. But after pitching to a 13.86 ERA in his three June starts, his ERA has swelled to 4.12.
"Just thinking about what I've done the last three starts, it's pretty disappointing," Moore said. Moore's June swoon is in deference to his 2012 season that saw him go 1-5 with a 4.76 ERA in April and May before going 3-0 with a 3.16 ERA in June.
Despite Moore's recent downturn, Maddon stood by his starter.
"I believe it's going to come," Maddon said. "I'm not overtly worried about it. I don't know exactly when it's going to be consistent. But this guy is going to be a very, very good Major League pitcher. Already is. It's just a little bit frustrating to watch right now and it's becoming somewhat of an epidemic."
Over the last six games, Rays starting pitchers have allowed 32 earned runs in 31 innings, good for a Major League-worst 9.29 ERA over that span. They have also allowed five runs or more in 11 of the last 27 games since May 17. Not exactly the numbers one would expect from a team built on the premise of having strong starting pitching.
"All the starters on the staff, we're pretty good," Moore said. "I think it's just a matter of us doing what we're capable of doing, staying within ourselves. You get going on some good streaks. And you have some bad streaks as well, and we're hoping that it ends pretty quick."
Maddon said he never would have expected to see a stretch like the one the starting pitching is experiencing, and he has not seen anything similar since before the 2008 season, back when the Rays were the Devil Rays.
"Until we start pitching like we can, it's going to be tough to get on a nice roll," Maddon said. "We have to pitch. I don't mean to say that in a manner that's going to pressurize the pitching staff. That's not the point, they know. We have to pitch a lot better to get to the spot we want to this year."
While the pitching didn't get the job done on Friday night, neither did the offense, which went 1-for-9 with runners in scoring position. Rays hitters are now 1-for-22 with runners in scoring position over their last three games. Despite the frustration in their last three games, the Rays still lead the American League with a .292 average with runners in scoring position for the season.
The Rays are 6-9 in their last 15 home games after starting the year 14-6 at Tropicana Field. Those numbers would likely improve dramatically if the starters return to form.
"We're not used to those guys struggling, and obviously we know how talented they are and how talented they can be," said outfielder Matt Joyce, who belted his 13th homer in the first inning. "We're not panicking. We're not hitting the panic button whatsoever. Shoot, man, the offense has struggled a little bit, the pitching has struggled a little bit and maybe next week we'll get everybody on the same page, and get on a nice little winning streak."
Bill Chastain is a reporter for MLB.com. This story was not subject to the approval of Major League Baseball or its clubs.