Shoppach designated as Mariners add Blanco
Shoppach designated as Mariners add Blanco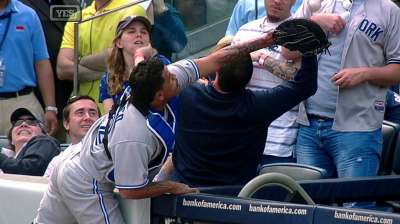 OAKLAND -- The Mariners shuffled veteran catchers on Friday, signing free agent Henry Blanco to a Major League contract and designating Kelly Shoppach for assignment.
Blanco met the Mariners in Oakland and is available for Friday's series opener against the A's. The 41-year-old, in his 16th Major League season, appeared in 15 games for the Blue Jays this year before being released on Monday. A career .226 hitter, including .184 (7-for-38) in 2013, Blanco is known as a defensive specialist, with a 40.7 percent caught-stealing rate.
"We had him targeted over the winter and weren't able to get it done, so when he became available we were immediately interested," Mariners manager Eric Wedge said. "His character is impeccable, he's experienced everything in the game. We felt like if there's someone to work alongside [Mariners rookie catcher Mike] Zunino there's nobody better at that position."
The Mariners had signed the 33-year-old Shoppach this past offseason, and he hit .196 with three home runs, nine RBIs and a .638 on-base plus slugging percentage in 35 games, including 32 starts. After a strong start to the year, Shoppach was 8-for-60 (.133) with two homers and 28 strikeouts since May 7. Seattle now has 10 days to trade, release or outright Shoppach.
"It's more about Blanco and him being available and us jumping on that opportunity," Wedge said of the switch. "He has just so much more experience, the leadership skills, the mentor skills. … Where he is in his life on and off the field, it's pretty impressive."
Signing Blanco suggests a greater commitment to Zunino by the Mariners, who've struggled in their search for answers behind the plate all season. The club demoted starter Jesus Montero to Triple-A Tacoma last month and on Tuesday called up Zunino, Seattle's first-round pick in the 2012 First-Year Player Draft and its No. 3 prospect, according to MLB.com. Zunino went 1-for-4 in his big league debut on Wednesday.
"The first thing is making him comfortable," Blanco said of Zunino and his responsibilities with the team. "You have to understand your role. I'm going to play a big role on the bench, and that's the way it's going to be.
"He belongs here, getting to work with the pitching staff and learning as much as he can. Whatever he needs, I'll be here for him."
Jeff Kirshman is an associate reporter for MLB.com. This story was not subject to the approval of Major League Baseball or its clubs.