Tillman, Orioles top Red Sox, gain ground in East
Tillman, Orioles top Red Sox, gain ground in East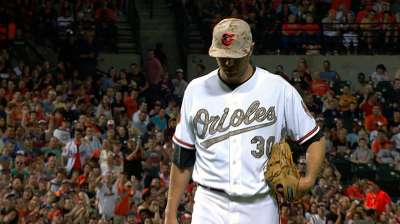 BALTIMORE -- Two down, two to go.
Friday's 2-0 win over Boston at Camden Yards moved Baltimore (39-29) to 10 games above .500 for the first time this season, and the Orioles are now 1 1/2 games behind the American League East-leading Red Sox. With two games remaining in the series, Baltimore has a chance to sit atop the standings with a sweep.
"I think it's still a little early [to look at the standings]," Chris Davis said, "but we know we're close. And any time a division rival comes in, you want to try to take as many games as you possibly can. I think we're pleased with the way things have gone so far, and hopefully, we can continue it."
Chris Tillman (7-2) pitched six-plus shutout innings, and the bullpen added three scoreless frames to seal the victory. Tillman has now won four of his past five starts, and he hasn't allowed a home run in seven career starts against the Red Sox.
"Chris [went to Spring Training] knowing full well that he was out of options," manager Buck Showalter said, "but he pitched like a guy who had three [options remaining] and didn't want to go to [Triple-A] Norfolk. And that shows a lot of maturity, because he wanted to be a guy for us this year, and he has been so far."
Tillman scattered three hits and four walks and kept one of baseball's best offenses off the board.
"I thought it was good. Early, I struggled with command a little bit with all my pitches," Tillman said. "I was able to make an adjustment midgame. Kind of went with [catcher Matt] Wieters from there and started attacking the zone a little."
Davis thinks the 25-year old Tillman has settled into a veteran's maturity.
"I think there were times last year when he really showed signs of greatness and showed signs of how dominant he could be," Davis said. "And this year he's had some games where he's really gone out and just made you step back and take a deep breath because he's throwing the ball so well. I mean, that's a pretty solid lineup he shut out tonight, and he did it pretty handily."
The Orioles didn't make much noise off Boston starter Ryan Dempster, but the combination of Davis and Manny Machado provided all the offense needed.
Dempster pitched 7 2/3 innings and allowed just five hits, but that solid effort wasn't enough.
"Sometimes you just get outpitched. There is really nothing you can do about it," Red Sox manager John Farrell said. "We don't get shut out very often. It's kind of a rarity. We'll just bounce back tomorrow."
Davis' home run in the second inning -- his Major League-leading 22nd of the year -- provided enough support for Tillman and the bullpen, which continued its scoreless string of innings against the Red Sox. Including the end of Thursday's 13-inning win, the Orioles' bullpen has now gone 9 1/3 innings without allowing a run, and they haven't issued a walk in that time frame, either.
Machado's single and two doubles padded his Major League lead in hits (95) and doubles (30), and he has set a season-long hitting streak of 12 games.
Nate McLouth walked with one out in the third and moved to second when Machado collected his second hit, which gave him his third consecutive multihit game. Nick Markakis moved McLouth to third with a flyout to center field, then Adam Jones beat out an infield single to drive home McLouth and give the Orioles a two-run lead.
Tillman allowed at least one baserunner in each of the first four innings, including a season-high four walks, but he did not permit a run.
Jose Iglesias dropped a bunt single in front of Machado in the fourth to extend his hitting streak to 15 games. The bunt moved Mike Carp to third with one out, but Tillman escaped the jam with a flyout and a strikeout at the bottom of the Red Sox order.
Those two outs started a string of eight consecutive batters Tillman retired until Iglesias' double snapped the streak and knocked Tillman from the game. Tillman had already thrown 106 pitches and was relieved by Darren O'Day, who retired the next three batters to strand Iglesias.
Tommy Hunter pitched a clean eighth inning in relief of O'Day, and Jim Johnson pitched the ninth for his 24th save.
Hunter, who threw 2 1/3 scoreless innings on Thursday, said that the team is happy with what it has accomplished to date, but not satisfied.
"We're not finished," Hunter said. "We've got a goal. It's pretty much the same goal as last year, and that's bringing a championship back here. We're on our way there, but we haven't clicked yet. We're waiting for that little run, and it's going to be exciting when that happens, and hopefully this is maybe the start of it."
Derek Wetmore is an associate reporter for MLB.com. This story was not subject to the approval of Major League Baseball or its clubs.