Wieters wins stolen-base showdown with Ellsbury
Wieters wins stolen-base showdown with Ellsbury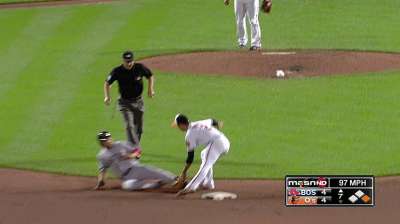 BALTIMORE -- The fifth inning of Thursday night's 13-inning win over the Red Sox featured a top-notch matchup.
Tommy Hunter came on to pitch against Shane Victorino, but the matchup that caused manager Buck Showalter to marvel was catcher Matt Wieters vs. stolen-base threat Jacoby Ellsbury at first base.
Ellsbury took off for second, and Wieters popped out of his crouch and pegged the speedster with a near-perfect throw to shortstop J.J. Hardy.
"You see certain catchers, a guy like that gets on base, all they put down is a one [for a fastball]," Showalter said. "The first pitch [Hunter] threw was a breaking ball. I can't tell you how few catchers will do that. A couple that are in the Hall of Fame, or are going to be. So that's about as good a throw as you'll ever see."
A good benchmark for a catcher is to get the ball from his mitt to second base in less than two seconds. Showalter said that Wieters' throw was clocked at 1.78 seconds.
"That was impressive," he said. "They talk about under two [seconds]. I can't tell you how far away 1.78 is from 2. It's an eternity."
But Ellsbury did later steal a base off Wieters in the 10th inning, his Major league-leading 30th swipe of the season.
"You can't try and judge your throw based on how fast the runner is," Wieters said. "You've just got to make as good of a throw as you can, and hopefully, it's good enough.
"Buck's really put an emphasis on getting times [to the plate] down throughout the organization and on the whole staff. They give me a real good chance, and I have a chance no matter who the baserunner is."
Derek Wetmore is an associate reporter for MLB.com. This story was not subject to the approval of Major League Baseball or its clubs.