Tribe closer Perez nears rehab assignment
Tribe closer Perez nears rehab assignment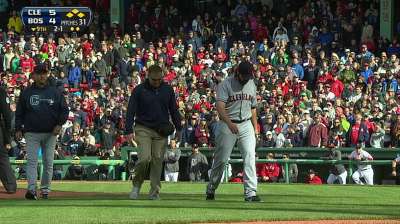 CLEVELAND -- After three weeks away from live action, Chris Perez will probably be back on the mound in a Minor League park later this weekend.
The injured Indians closer threw a bullpen session on Friday and will likely make a rehab appearance on Sunday, Tribe manager Terry Francona announced before the opener of a three-game weekend series against Washington on Friday.
"[He] did real well," Francona said. "[He] didn't command great, which I don't think is a surprise, because he hadn't been off the mound much."
Francona said the club hadn't yet decided which Minor League affiliate Perez will pitch for. The closer went on the 15-day disabled list on May 27 with mild tendinitis in the rotator cuff of his right shoulder.
In 17 outings this season, Perez owns a 4.32 ERA and has converted six of eight save opportunities. Over his last 2 2/3 innings, Perez had allowed seven runs on five hits (three home runs) and five walks.
Perez's problems have spread away from the ballpark, too. Earlier this month, Perez and his wife were charged with misdemeanor drug possession when a package of marijuana was delivered to their rental home in Rocky River, Ohio. On Monday, the two pleaded not guilty.
The only Minor League affiliate that plays at home on Sunday is Class A Lake County.
"We'll sit with him -- we already have a little bit -- and determine what's in his best interest, and where," Francona said. "Hopefully, he's to the point where maybe it's only once. We'll see. We'll kind of see how he does. Because he wasn't down that long, I don't think getting back is going to take a really long time."
Mark Emery is an associate reporter for MLB.com. This story was not subject to the approval of Major League Baseball or its clubs.