Stubbs' legs give Tribe walk-off win over Nats
Stubbs' legs give Tribe walk-off win over Nats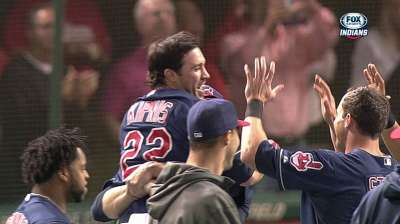 CLEVELAND -- Drew Stubbs took off for home plate as soon as Jason Kipnis made contact with the curveball from Nationals reliever Fernando Abad.
The ball hurtled, on the ground, toward first baseman Adam LaRoche, who speared it and flung it back toward the plate. Stubbs beat the throw, however, and was pumping his fist before he'd even stood up.
Backed by Stubbs' speed and a strong outing from Justin Masterson, the Indians notched their sixth walk-off victory of the season as they opened a weekend series against Washington with a 2-1 win.
"You've got to anticipate," Stubbs said. "It's part of the instincts of the game. I think the more you can anticipate a ground ball being hit, the better jump you can get. That's what I was trying to do.
"Fortunately, I was able to get under the tag."
After coming home with the winning run, Stubbs sprang to his feet and celebrated with his teammates. Kipnis soon joined in the festivities, though he didn't quite witness the crucial play at the plate.
"I actually didn't turn around," Kipnis said. "I was waiting for the crowd reaction to see what happened.
"I hoped it was through. You never know until you actually see it [go] through. LaRoche made a [heck] of a play on that. I thought I was going to be able to sneak it through for a base hit, but fortunately we got a fast guy on both bases there, [and] Stubby beat the throw home."
Stubbs led off the bottom of the ninth with a bloop single into right field. He took off for second while Michael Bourn was hitting, and made it all the way to third when Bourn yanked a ball through the right side for a single. After Bourn stole second, the Tribe had two quick runners in scoring position, and Stubbs was free to run on contact.
"There's no reason for him not to," manager Terry Francona said. "We got another runner right behind him. If we make an out at first or home, there's no difference.
"Fortunately, Stubbs got a good break and he's fast, because that was a heck of a play by LaRoche."
The two clubs entered the eighth inning in a 1-1 standoff thanks to their respective starters. Both Masterson and Nationals lefty Gio Gonzalez turned in exemplary efforts during their seven innings of work.
Masterson held Washington to a run and two hits. For the fourth time in his career, he notched double-digit strikeouts, finishing with 10. He also walked four batters while throwing 113 pitches, 71 of which went for strikes.
"I just had some good movement," Masterson said. "Slider, sinker, magic pitch ... It was all good."
As for Gonzalez, the Nationals' southpaw kept Cleveland to a run and three hits. He also walked four and managed to strike out eight.
Masterson's lone run came in the third inning, when Washington loaded the bases with a walk, a single, a sacrifice bunt and another walk. Kurt Suzuki came home on a wild pitch, but that was it for the Nationals. Masterson escaped further harm by striking out Ryan Zimmerman and inducing a groundout from LaRoche.
Cleveland tied the game in the fourth. In a 1-1 count, designated hitter Ryan Raburn clocked a 93-mph fastball from Gonzalez into the right-field seats. It was Raburn's seventh home run of the season, and his third career homer off Gonzalez.
"We came out tonight with a lot of energy," Francona said. "Their guy was really good. So was Masty. You saw [seven] innings of two pretty good pitchers going at it."
The Indians erupted onto the field when Kipnis' grounder plated Stubbs. Kipnis appeared to be running slightly inside the baseline during the play, and he had to crouch to avoid LaRoche's throw.
"I just threw at his [Kipnis'] head. He is right on the line. He ducked, and we lost," LaRoche said. "Looking back, I guess he was in the grass a little bit. That happens quite a bit and it doesn't get called very much."
Said Kipnis: "It actually lined up perfectly where, when I'm running down the line, I was kind of, not in his way a little bit, but maybe could hinder his throw a little bit."
Regardless, Stubbs scored and the Tribe won. Friday's victory was Cleveland's third in a row, a positive turnaround for a club that had previously lost eight straight.
"Losing eight or nine in a row, whatever it was, that's not characteristic of this team," Stubbs said. "We're pretty resilient. We just knew we needed a few breaks to start going our way, and I think that kind of happened in Texas. We started getting some key hits and then let the momentum carry over into today."
Mark Emery is an associate reporter for MLB.com. This story was not subject to the approval of Major League Baseball or its clubs.