After relieving bullpen, Odorizzi back to Minors
After relieving bullpen, Odorizzi back to Minors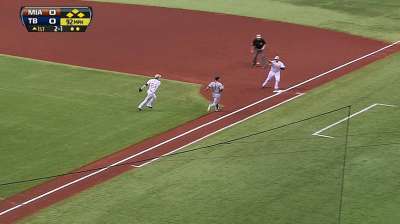 ST. PETERSBURG -- Jake Odorizzi got to pitch against his former team for the first time in the Rays' 10-1 loss Thursday night, but he knew he would be heading back to the Minors when he came off the mound.
Odorizzi threw 3 1/3 innings against the Royals and gave the Rays' overworked bullpen a rest after Jeremy Hellickson's short start. After the game, he was optioned back to Triple-A Durham as Tampa Bay reinstated Alex Cobb from the bereavement list.
"Cobb's coming back off of his absence, so somebody's got to go; I threw almost 65-70 pitches tonight, so it was pretty obvious," said Odorizzi, who threw 68 in relief. "I wasn't really surprised by it."
The Rays recalled Odorizzi on Tuesday after Cobb was placed on the bereavement list following the death of his grandmother. The right-hander said he felt good pitching in relief Thursday night, though he gave up two runs on four hits and two walks while striking out four.
He said his only objective Thursday was to finish out the game so Tampa Bay's bullpen would be in good shape for the rest of this four-game series against Kansas City, the club that traded him to Tampa Bay this offseason in the deal that sent James Shields to the Royals.
"It was pretty cool, definitely exciting," Odorizzi said. "I wasn't really worrying about it. I was just trying to get outs anywhere I could, just get through the game and let the guys get ready for tomorrow. It was a neat thing. Not too many people get to do that."
Only Kyle Farnsworth, Fernando Rodney and Odorizzi were available out of the bullpen Thursday night, but with Odorizzi picking up the rest of the game after Hellickson was knocked out, the Rays should have their entire relief corps rested and ready to go Friday against the Royals. Tampa Bay could have chosen to option Odorizzi and recall another reliever to fill Cobb's spot because Cobb will not be needed until Saturday, but manager Joe Maddon said that was not necessary.
"We'll have a lot of members back tomorrow," Maddon said. "They're all going to be good by tomorrow. They just needed a day. There's no shuffle going on."
Adam Berry is a reporter for MLB.com. Follow him on Twitter at @adamdberry. This story was not subject to the approval of Major League Baseball or its clubs.