Morton returns with solid effort as Bucs lose to Giants
Morton returns with solid effort as Bucs lose to Giants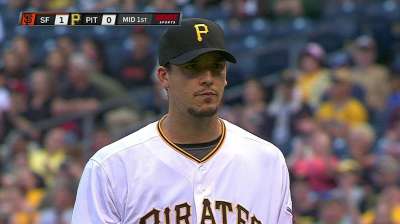 PITTSBURGH -- In a duel of anniversaries, Matt Cain's trumped Charlie Morton's.
Pitching on the one-year anniversary of his perfect game against Houston, the San Francisco right-hander on Thursday blanked the Pirates on two hits for 6 2/3 innings in the Giants' 10-0 win over Morton at PNC Park.
Cain's dominant performance took the luster off Morton's first start after recovering from Tommy John surgery last June 14.
In a very real sense, though, both pitchers showed they were back.
"I wish it had gone better. You want to show your team and people that you're back -- and are better then ever before," said Morton, whose comeback with the five-inning outing was physical. "You want to show that you're good to go. I wasn't looking for this start to validate what I had gone through in the rehab."
"It's physical in a way, too, but you get more focused on making the pitch you want," said Cain, whose ongoing comeback is performance-based. "It's kind of weird, because you don't want to get caught up in [the perfect game deja vu], so you just try to keep going."
Morton's only triumphs were personal, from the satisfaction of having returned from that operation in good time and in good form.
"There are some areas he'll be able to improve. He did some things well," said Pirates manager Clint Hurdle, who after months of merely getting reports on Morton's progress was anxious for a firsthand look. "But for being out for a year, first time back on a Major League mound, there were some things we can definitely work with."
And the Pirates' lone achievement was avoiding the embarrassment of being the victim of what would have been a fantastic observance of Cain's June 13, 2012, perfect game. Garrett Jones took care of the unthinkable by breaking up Cain's no-hitter with a sharp, clean single into right to begin the fifth.
Andrew McCutchen notched the other hit off Cain with a one-out double in the seventh. Cain departed with two outs in that inning, having walked two and fanned three in a second straight strong effort after his ERA had spiraled to 5.45.
"We got the really good Matt Cain tonight," Hurdle said. "The fastball velocity doesn't play up [the way it used to], but he can turn the ball up with that cutter/slider. He painted arm-side [inside] to left-handers."
Morton was hit by an obvious first-inning adrenaline rush. He walked the first man he faced -- his only walk of the game -- and hit the second with a pitch.
"It was a little different, more intense than I expected," Morton said of that game-beginning ambiance. "Once I got on the mound, things sped up."
Then he quickly found that mound alchemy that again enabled him to mix 96 mph fastballs and 78 mph breaking balls into a potion that had batters beating balls into the ground. The "worm-killer" was still very much part of his repertoire.
"I was a little inconsistent," he said. "The curveball was really good tonight; I just had trouble repeating it. Overall, I think everything was decent. I got a lot of ground balls -- unfortunately not always where I wanted."
That included the hits off him, fortunately placed dribblers through the infield, a couple that did not leave the infield at all. The first two runs off him were soft, the other two were unjust.
After a pair of early runs on RBI singles by Buster Posey in the first and Gregor Blanco in the second, the Giants doubled Morton's disadvantage to 4-0 with two runs in the fifth resulting from what appeared to be a questionable application of the obstruction rule.
With one out and runners on second and third -- Brandon Crawford was hit by a pitch prior to Posey's ground-rule double into the North Side Notch -- the Pittsburgh infield played in for Hunter Pence, who obligingly grounded the ball right at second baseman Neil Walker.
Confronted with Walker's throw to catcher Michael McKenry, Crawford put on the brakes and got snared in a rundown. At one point, third baseman Pedro Alvarez handled a throw, returned it plate-ward -- and made a point of clearing the baseline.
However, Crawford also pivoted there, onto the grass, and when he bumped into Alvarez, the Pirates player was called for obstruction. Crawford's score made it 3-0 and kept the inning alive for Andres Torres' sacrifice fly.
Hurdle had a bigger issue with the way the Bucs executed that rundown than with plate umpire Tim McClelland's call.
"That's a play we definitely got to execute better," said Hurdle, who pointed out that McKenry should have run Crawford farther up the line back toward the base before throwing the ball. "The runner has a lane, three feet to both sides of the path, which puts him on the grass. And when [Crawford] made the turn, he turned back into the play."
In five innings, Morton allowed seven hits and four runs (two earned), with the one walk and five strikeouts. Of the 25 men he faced, he allowed three balls to be hit on the fly to the outfield.
And he kept the game manageable, something quickly spoiled under left-handed reliever Mike Zagurski's watch in the sixth. The Giants jumped him for five runs, the last three on Pence's three-run homer to center.
Ryan Reid followed him on the mound and put up two zeros, not an insignificant development. Before a right calf injury to A.J. Burnett led to him going on the disabled list to open a 25-man roster spot for Morton, the expectation was that the Pirates would trim someone from their eight-man bullpen.
That decision could have come down to between Reid and Zagurski -- as it might again when Burnett is ready to come off the DL.
Tom Singer is a reporter for MLB.com and writes an MLBlog Change for a Nickel. He can also be found on Twitter @Tom_Singer. This story was not subject to the approval of Major League Baseball or its clubs.