Twins unable to corral eighth-inning charge
Twins unable to corral eighth-inning charge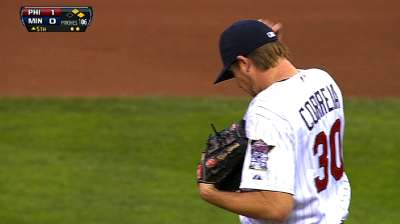 MINNEAPOLIS -- With eighth-inning heroics in both Tuesday and Wednesday's games for one-run victories over the Phillies, the Twins seemed on pace to continue the trend in Thursday's series finale after taking a 2-1 lead in the seventh. But the Phillies weren't having it.
With a two-run inning of their own in the eighth, the Phillies bested the Twins, 3-2, at Target Field.
Although it took the Twins' offense some time to heat up, their defense held the Phillies to only one run on 12 hits through seven innings. But it wouldn't last. Right-hander Jared Burton made his first appearance since Saturday in the eighth inning and couldn't hold the Twins' 2-1 lead, allowing two runs on three hits. He gave up a double to Kevin Frandsen and a bunt single to Ben Revere. Frandsen scored the tying run on a Michael Young's single, and Revere scored the go-ahead run when Justin Morneau's throw to home was late on Jimmy Rollins' bouncing grounder to first base, giving the Phillies a 3-2 lead. The Phillies ended the night with 16 hits and 16 left on base.
"We finally picked up a couple of [runs] and you get Burton in the game who's normally really, really good in there, and they get two down the right-field line, a bunt base hit and a chopper down the first-base line and ... the lead is gone," Twins manager Ron Gardenhire said. "Kind of a crazy way the game ended up there -- 16 hits, 16 left on. You don't see those lines too many [times], and they only scored three runs so we lose, 3-2."
"I can't explain it," Phillies manager Charlie Manuel added about leaving 16 stranded. "We just didn't knock nobody in. But, actually, the way the game was running, we started getting guys on with two outs. And we couldn't score. That's the bottom line."
Gardenhire felt that Burton, who left Satuday's game with a groin issue, wasn't rusty, but simply fell into some bad luck. Burton also noted that he didn't feel off and would make the same pitches again.
"I felt like I'll take the stuff I had out there every day," Burton said. "I know it'll play out. You can't ride the peaks and valleys. If you have good stuff, you just have to go out there and know that over 70 to 75 games, it's going to work itself out."
Twins right-hander Kevin Correia -- who has been the Twins' most consistent starter of late -- fought through five innings, throwing 112 pitches and 70 strikes. Despite giving up eight hits on the night, Correia only allowed one run on Ryan Howard's single in the first inning that brought home Revere, who had reached on a single to lead off the game. The run marked the third time in the Twins' past four matchups that they gave up a run to open the game.
Although Correia retired from the game early, Phillies starter Cliff Lee worked deep and faced the minimum through six innings. The left-hander was pulled after completing the seventh, when he surrendered Morneau's two-run double that gave the Twins their short-lived lead. Lee finished with just the two runs allowed on three hits with six strikeouts.
"It was kind of one-sided," Correia said of the pitching matchup. "I felt like he was out there for three minutes an inning and I was out there for 30 minutes an inning. So it's a different way of doing it. But it can wear on you. He's out there and it's still just a one-run lead. We had a couple timely hits and all of a sudden we have the lead. So it's huge even if a guy is good like that to keep the game close because eventually you can get to him."
Through six innings against Lee, Joe Mauer was the only Twin to reach base, with a fourth-inning single. Mauer reached again in the seventh with a one-out walk. Ryan Doumit followed with an infield single, reaching on a close call. After Josh Willingham popped out, Morneau stepped up to the plate with two outs and delivered a double to score Mauer and Doumit.
Despite a rocky seventh for Lee, the Phillies pitching staff continued to work efficiently. Righty Mike Adams faced just three batters in the eighth, and Jonathan Papelbon worked a perfect ninth for his 12th save of the season.
Kelly Erickson is an associate reporter for MLB.com This story was not subject to the approval of Major League Baseball or its clubs.