Cain delivers strong win on perfecto anniversary
Cain delivers strong win on perfecto anniversary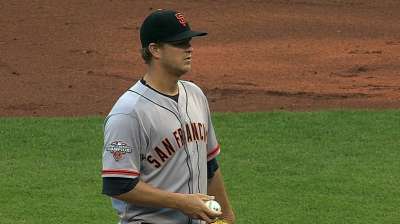 PITTSBURGH -- Matt Cain wrote two sequels with one performance Thursday night. The Giants liked the common ending.
Cain didn't duplicate the wondrous effort he delivered last June 13 -- the 22nd perfect game in baseball history. But he still generated plenty of zeros while allowing two hits in 6 2/3 shutout innings. Moreover, Cain provided an indication that he could be entering a new, promising chapter in his confusing season by excelling in his second straight road start as the Giants routed the Pittsburgh Pirates, 10-0, at PNC Park.
Cain owned a 6.27 road ERA before San Francisco's current trip began. He has trimmed that figure to 4.76, coupling last Friday's seven-inning, one-run outing at Arizona with this start. Moreover, his 90th career win was a welcome development for the Giants, given the Major League-worst 5.30 road ERA they took into this series finale.
"I feel like I'm throwing the ball like I want," said Cain (5-3). "I'm just trying to eliminate the big inning."
That has challenged Cain all season, most recently June 1 at St. Louis when he spoiled five perfect innings by allowing seven runs in the third inning. The adjustments he has made since then, he said, are mostly mental.
"It's physical in a way, too," he said. "But you're more focused on making the pitch you want and not thinking back to, 'Let's not do this or not do that.' Because once you start with do nots and don'ts, it seems like everything goes wrong then. That's a hard way to go about life."
As Thursday approached, Cain tried to avoid another complication: dwelling on the fact that he would pitch on the one-year anniversary of his 27-up, 27-down gem against Houston.
Asked if that entered his mind, Cain said, "I tried not to let it. It's kind of weird because I thought about it when it came around. You don't want to get caught up in it."
Cain was en route to making more history as he no-hit Pittsburgh for four innings. He faced the minimum 12 batters, thanks to a second-inning double play following a leadoff walk to Garrett Jones.
"I just tried to keep it going," Cain said.
Jones' sharp single to right field christened the fifth inning and ended any fantasies of a perfect game/no-hitter/June 13 combination. By then, Cain had established command. Andrew McCutchen's one-out double in the seventh inning was the only other hit he allowed.
"We got the really good Matt Cain tonight," Pittsburgh manager Clint Hurdle said.
Recalling Cain's Major League debut on Aug. 29, 2005, against the Colorado team he then managed, Hurdle added, "He's evolved into a great pitcher. The fastball velocity doesn't play up, but he can turn the ball up with that cutter/slider. He painted arm-side to left-handers. The changeup comes into play, the early curveball. That would definitely be a guy to hang your hat on if you want to patent yourself after a guy."
The calendar wasn't the only reminder of Cain's perfect game. So was the identical final score. One night after Pittsburgh established season highs with 12 runs and 18 hits, the Giants reversed their fortunes by matching their 2013-best run total. They sustained a robust offense as Buster Posey and Gregor Blanco each drove in a pair of runs and Hunter Pence's three-run homer fueled a five-run, sixth-inning outburst.
The Giants thus amassed 18 runs in two nights without Angel Pagan, Marco Scutaro and Pablo Sandoval, who are sidelined by injuries.
"It's a great sign," Bochy said. "We're missing three big bats. When you have the 1-2-3 hitters out, you're hoping guys pick it up, which they have the last couple of nights."
"I think we're getting back to the baseball we were playing earlier in the year, where it didn't matter who was in the lineup," shortstop Brandon Crawford said. "Somebody was stepping up and getting the big RBI or a few hits."
Crawford contributed adept baserunning in the fifth inning. Trapped in a rundown between third base and home, he avoided being tagged long enough to draw an obstruction call on Pirates third baseman Pedro Alvarez. That helped produce a pair of unearned runs off Pirates right-hander Charlie Morton, who made his first Major League start since undergoing Tommy John elbow surgery a year ago Friday.
Chris Haft is a reporter for MLB.com. This story was not subject to the approval of Major League Baseball or its clubs.