Phillies rally just in time to secure win for Lee
Phillies rally just in time to secure win for Lee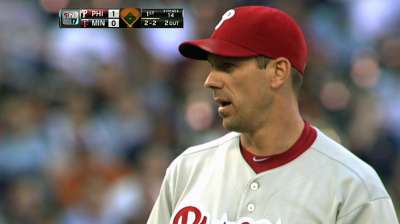 MINNEAPOLIS -- Cliff Lee spurned the Yankees and Rangers to sign with the Phillies in December 2010 because he said they offered him the best opportunity to win multiple World Series.
But that dream has faded over the past eight-plus months of regular-season baseball. The Phillies missed the postseason in 2012 and improved to just 32-35 following Thursday's 3-2 victory over the Twins at Target Field. The victory snapped a five-game losing streak as the Phillies left for a weekend series in Colorado with the sixth-worst record in the National League.
"The past year and a half hasn't gone the way I would have anticipated," said Lee, who allowed three hits, two runs and struck out six in seven innings to improve to 8-2 with a 2.55 ERA. "It's why you play the games. You never know. I don't think anyone here is happy with the way we've played in that time frame. It's due to a lot of injuries. There are some good excuses, but they're still excuses. We're the Philadelphia Phillies. We should play better than we have."
But can this team win as it is currently constituted? The offense and bullpen each are among the worst in baseball.
"I can't look at it any other way, besides I expect us to win and catch up with the Braves and get into the postseason," Lee said. "That's the only way you can look at it."
Does he want to stay if the team doesn't turn things around?
"I definitely want to win," he said. "There's no doubt about that."
But if it doesn't turn around?
"I want to win," he repeated. "I don't know how else to say it besides that. I want to win."
Lee's name already has been a hot topic of conversation weeks before the July 31 Trading Deadline, and the buzz should reach a manic state in the next few weeks if the Phillies continue to struggle. Lee signed a five-year, $120 million contract before the 2011 season and has continued to dominate. A team in need of an ace certainly will be interested in acquiring him.
The Phillies have said they have a better chance to win in the future with Lee than without him. While that is true, when asked if he is prepared to play out the string the final two months of the season if things don't improve, Lee said, "I don't have any control over that. I know that I want to win and I'll voice that to whoever. And that's that. I want to win here. That's why I signed here. And that's where my focus is."
Lee's focus (and talent) tore through the Twins lineup through six innings. He had retired 18 of the first 19 batters he faced when Joe Mauer worked a one-out walk in the seventh. It actually looked like Lee had Mauer looking on an 0-2 pitch, but home-plate umpire Bruce Dreckman called it a ball. Ryan Doumit followed with a grounder up the third-base line. Michael Young got Doumit at first, but first-base umpire Gary Darling called him safe.
"I basically had to get five outs in that inning," Lee said.
Justin Morneau hit a sinking line drive to left-center field with two outs. Center fielder Ben Revere, who went 4-for-6 with two runs scored, tried to make a diving catch but missed, and both runners scored to give the Twins a 2-1 lead.
The Phillies rallied for Lee in the eighth. Pinch-hitter Kevin Frandsen started the inning with a double into the right-field corner.
"That one was for Cliff, for sure," Frandsen said.
Revere's bunt single put runners at the corners. Young's single to right scored Frandsen to tie the game and Jimmy Rollins' fielder's choice scored Revere to give the Phillies the lead. Mike Adams, who has struggled mightily lately, pitched a perfect eighth, and Jonathan Papelbon worked a clean ninth to pick up his 12th save.
"Man, I needed that one big time," Adams said.
The Phillies scattered 16 hits but scored just three runs. It is just the second time in franchise history they had 16 or more hits but scored three or fewer runs in a nine-inning game. The other came July 6, 1954, in a 3-0 victory over the Pirates.
"At least we got guys on base," manager Charlie Manuel said. "We can always have a chance to knock them in if they're on base. Usually they're not on base."
It is a big reason why the Phillies are just 2-5 on this road trip, which concludes this weekend in Colorado.
It wasn't supposed to be this way. The Phillies were supposed to be the Yankees of the National League. They were supposed to be heavy favorites for the World Series every year.
"Yeah, that's what I expected," Lee said. "We've had one chance [to win a World Series] in two-and-a-half years, and this year is not over yet. I expected us to get multiple shots at it, but there are 29 other teams thinking the same thing, so nothing is going to be given to you. Nobody feels sorry for you or any of that. You've got to go out there and earn it. I'm going to continue to do what I can to give this team a chance to win when I pitch, and that's really the only thing I can control."
Todd Zolecki is a reporter for MLB.com. This story was not subject to the approval of Major League Baseball or its clubs.