Royals interrupt pitchers' duel with big sixth
Royals interrupt pitchers' duel with big sixth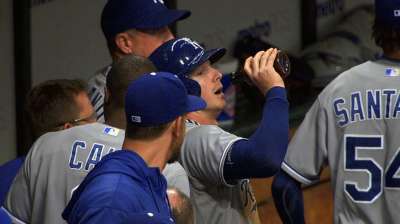 ST. PETERSBURG -- Now, along with a bunch of victories, the Royals are getting the hang of scoring runs by the bunch.
While right-hander Ervin Santana stymied Tampa Bay with tight pitching, Elliot Johnson led a roaring Kansas City offense to a 10-1 victory over the Rays on Thursday night at Tropicana Field. It was the Royals' eighth victory in their last nine games.
That comes after a 6-22 stretch that put the Royals in last place. Now they are third and just two games under .500 at 31-33.
Johnson started the Royals' eight-run sixth inning against right-hander Jeremy Hellickson with a single and finished it off with a three-run homer. It was their biggest inning of the season.
"We're working at it; the guys are really trying," acting manager Chino Cadahia said. "The work has been there since Day 1 even on that bad streak. It's a matter of confidence, and tonight was the night we broke out."
Cadahia, the bench coach, was subbing for Ned Yost, who was in Georgia for his daughter's wedding.
Santana evened his record at 5-5 with his second straight win. In 7 2/3 innings, he held the Rays to five hits and one unearned run. This was a club-record 12th consecutive game in which Royals pitchers have held their opponent to three or fewer runs. That has not happened since Aug. 3-14, 1991.
"Everything is coming around very good; we put very good swings on the ball, and everything is going our way right now," Santana said. "We just have to keep it up."
It was a case of a pitchers' duel interrupted. Loudly.
Santana and Hellickson went head-to-head, pitch-for-pitch for five scoreless innings. Then Hellickson found himself behind the 8-ball.
Johnson, the ex-Rays infielder, singled to right field. Then came a double by Alcides Escobar, singles by Alex Gordon, Salvador Perez, Billy Butler and David Lough, plus a double by Miguel Tejada.
Johnson's blast soared into the right-field seats on Hellickson's 1-1 delivery, his 100th and last pitch of the game.
He was the first Royal to get two hits in an inning since Eric Hosmer on Aug. 20, 2011, against Boston, also in the sixth inning. That also was the last time that the Royals had scored eight runs in one inning.
Johnson gave credit to the Royals' new hitting coach, George Brett.
"George has been helping me out a lot and found something that I was doing wrong," Johnson said. "We've been working every single day to try to get it right, and it came together a little bit better the at-bat previous, leading off the inning. Obviously on the home run, I haven't been able to put that kind of bat speed together without George's help."
It was Johnson's second home run for the Royals, both against his old team. Including two games against the Rays in Kansas City, he is 6-for-11 with four runs and four RBIs. Another hit was snowed out when the third game in Kansas City was postponed. (Against everybody else, he is batting just .202 with no homers and three RBIs.)
"We've really elevated his numbers a bit," Rays manager Joe Maddon said, adding that "to his credit, he's really done well against us."
Gordon's hit in that inning was his second of the game, so perhaps he is finally getting the hang of hitting at the Trop. He was 0-for-37 in his career here until getting a double in his first at-bat of 2011. Now he is 7-for-67, .104.
Hosmer, who did not contribute to the sixth-inning fun, made up for it in the seventh when he hammered a solo home run to left center against right-hander Jake Odorizzi. Yep, the same Odorizzi who went to the Rays in the trade that gave the Royals Johnson, James Shields and Wade Davis.
Hosmer hammered his homer, his second of the season, on Odorizzi's first pitch. Odorizzi finished the game and afterward was sent back to Triple-A Durham as expected, clearing room for pitcher Alex Cobb, who is coming off the bereavement list.
"Facing Odorizzi, I was real familiar with him, and I wanted to get to him early, knowing he's got that big nasty curveball; I didn't want to give him a chance to throw it," Hosmer said.
The Royals' 10th run came in the eighth as Lorenzo Cain doubled and scored on Lough's single.
Santana won his second straight start after going six outings without a victory. He had no walks for the sixth time in his 13 starts and has issued just 13 in his 92 innings.
"He was really good today," Cadahia said. "He threw strikes with his fastball early in the count. He used the changeup a little bit more today, but he was very effective. I told him he had to go 8 2/3 today, but he fell a little short of what we wanted. But nonetheless, it was a great job on his part."
Santana tried to keep his mind off the 8-0 lead the Royals gave him.
"I was very happy," Santana said. "I just didn't think about having that many runs and tried to keep putting zeros on the board."
As for Johnson, he was asked to explain what was behind the Royals' recent turnaround.
"More than anything, timely hitting," he said. "We really didn't do a very good job of making the most of opportunities when the guys were on base. So I think in this stretch that we've been on -- having Salvy back after his grandmother passed away has been a huge impact on the lineup -- guys are definitely putting together better approaches."
And, on Thursday night, nobody had better approaches than Johnson.
Dick Kaegel is a reporter for MLB.com. This story was not subject to the approval of Major League Baseball or its clubs.