Another big inning costly for Hellickson, Rays
Another big inning costly for Hellickson, Rays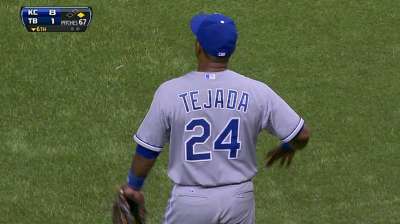 ST. PETERSBURG -- The big inning continued to haunt Jeremy Hellickson on Thursday night when the Royals parlayed an eight-run frame off the Rays right-hander into a 10-1 win.
In defeat, the Rays fell to 35-31 on the season and 3-4 on the current homestand. They have lost four of their last five games.
Hellickson cruised through the first five innings, posting five zeros, before former Ray Elliot Johnson singled to start the Royals' sixth.
Seven hits and eight runs followed, including Miguel Tejada's two-run double and Johnson's three-run homer in his second at-bat of the inning.
Hellickson "was two pitchers in one game," Rays manager Joe Maddon said, adding that "he was pitching well, and all of a sudden it just went away very quickly. Just got a couple of changeups up, and that was it."
Johnson is hitting .545 with two home runs and four RBIs in three games against the Rays this season compared with .202 with no homers and three RBIs in 39 games against other opponents.
"We've elevated his numbers a bit, just like he elevated that home run; it was properly struck, too," Maddon said. "To his credit, he's really done well against us."
Johnson credited new Royals hitting coach George Brett for helping him with his swing.
"The home run, as soon as it hits my bat, I know that's gone," Johnson said. "I hit that ball as far as I can hit it. That was easy to know as soon as I hit it that it would be gone. George has been helping me out a lot and found something that I was doing wrong.
"We've been working every single day trying to get it right. I came together a little bit on the at-bat leading off the inning, and the home run, I haven't been able to put that type of bat speed together without George's help. Obviously, he deserves plenty of credit."
Mercifully, Johnson's blast chased Hellickson, leaving him with an ugly line of eight runs on 10 hits in 5 2/3 innings.
"Eight runs is eight runs; it's unacceptable," Hellickson said.
The familiarity of Hellickson's outing had to be the most troubling facet of his performance. He has struggled with the big inning all season. In eight of his 14 starts, he has surrendered three or more runs in an inning.
"It's definitely not pitch selection," Hellickson said. "I just have to execute whatever I throw. I wish I could spread around the hits, one here and one there, instead of five, six in a row. I really don't know."
Meanwhile, the Rays' offense remained silent for a second consecutive night. After scoring 31 runs in four games, the Rays were held to one run Wednesday night against the Red Sox and just one run Thursday night against the Royals.
Ervin Santana started for the Royals and picked up fifth win of the season and his first road win since April 21. He threw 104 pitches over 7 2/3 innings and needed only 13 pitches through two innings pitched, including a four-pitch first.
"He's good," Maddon said. "In my mind's eye, when we've gotten him in the past, his command has been off. But his command was on right now."
Unfortunately for the Rays, Santana did not walk a batter Thursday night and has issued just 13 walks through 92 innings.
"He really pitched well," Maddon said.
The Rays' staff has allowed double-digit runs seven times this year, one shy of their total from the 2011-12 seasons combined. And the Rays' starters have allowed five runs or more in 10 of the last 26 games. They have allowed five-plus runs in 19 games this season, which ties for the most in the American League.
"We need all of our starters to do better," Maddon said. "We've been seeing way too much of our middle relief pitchers.
"We have to get those guys pitching less frequently," he added. "Getting the starters to go deeper into games, with leads, which is our DNA and that's how we play at the end of the season and get to the playoffs. We can't do it this way."
Bill Chastain is a reporter for MLB.com. This story was not subject to the approval of Major League Baseball or its clubs.